Cruise NZ's Subantarctic & Chatham Islands
**Prices are in Australian Dollars - Accommodation upgrades available**
Departs Auckland 8 February 2021 aboard Le Lapérouse 15 days / 14 nights
Price for accommodation in a Prestige Stateroom on Deck 4
Discover the wild and untouched beauty of New Zealand's Subantarctic Islands and Chatham Islands on this exceptional 15-day expedition on board Le Lapérouse.
Often described as the "Galápagos of the Southern Ocean", the Subantarctic Islands of New Zealand are among some of the best preserved and protected environments on the planet, where you can experience scenery and wildlife like nowhere else on earth.
These remote island outposts are collectively a UNESCO World Heritage Site and home to a myriad of wildlife with many species endemic to the region and even to individual islands, including the Royal Albatross and various penguin species.
The Chatham islands will add even more breathtaking scenery and wildlife encounters to your itinerary. The 80 million years' old archipelago is made of 10 islands boasting various endemic species of birds and plants you will be able to discover alongside your team of passionate expedition experts.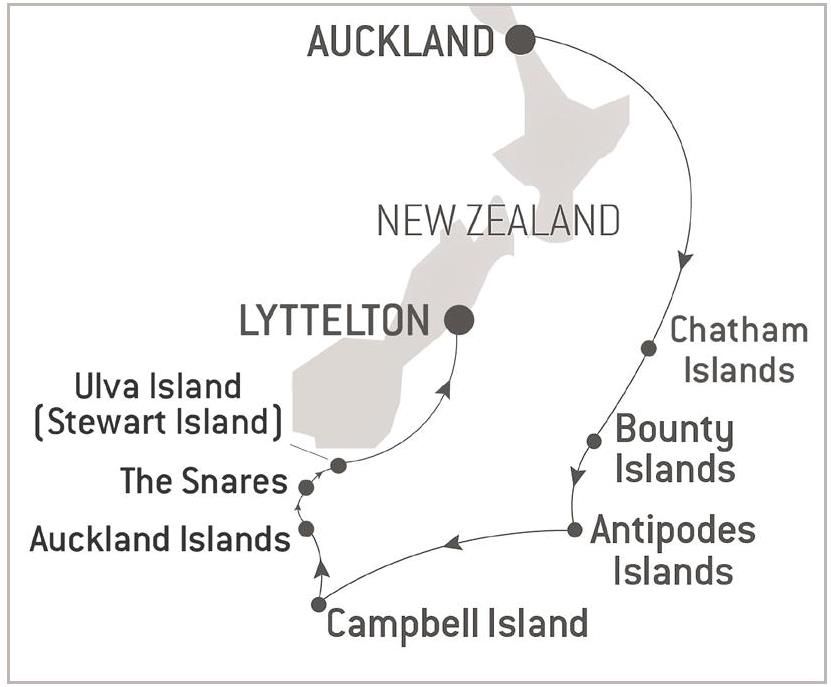 Expedition Highlights:
Discover the 80-million years' old remote Chatham Islands archipelago.
Opportunities for guided walks on the Auckland Islands and Campbell Island, both of which are UNESCO World Heritage Sites.
Explore the coastal environments and view the prolific wildlife of The Snares from our fleet of Zodiacs.®
Wildlife: colonies of fur seals, elephant seals along with king, royal & yellow-eyed penguins. A wide variety of birds including Gibson's albatross, giant petrels, Auckland shags & Campbell Island teals.
Landscapes: beaches of black sand, hidden inlets and undulating meadows.
Zodiac® outings & shore visits with your expedition team.
Contact us for further information and a copy of the itinerary.

REF: WILDE
back to top