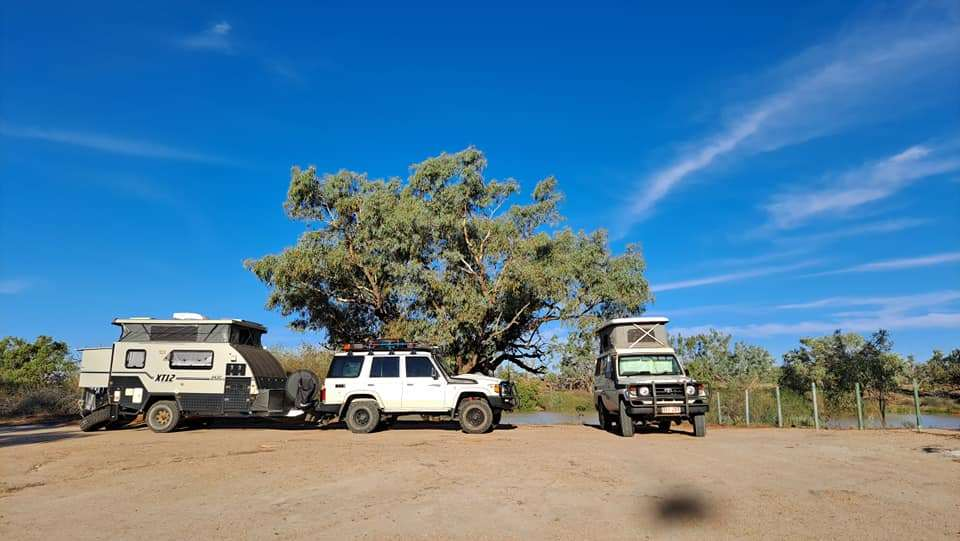 Australian Outback Adventure - Part One
Steve Subritzky, new club member has had an ambition to complete some of Australia's out back tracks.
2018 saw his trip canned because of flooding. COVID-19 put plans on hold.
But 2021 Steve managed to enter Brisbane safely with no isolation after taking a punt on travel dates.
With friends from Bribie Island J&J they set off inland.
5th May
Arrived at Burke and Wills Dig tree that I mentioned earlier. First drama, Jamie had a grey water tap broken off by a rock in the first 14km of dirt road. This was our first cold night, 27 degree days, less than 10 at night. Now we are at Innaminka at the start of the Strezleki track which we will be starting tomorrow. Definitely no phone coverage for a while now.
Note all creeks and rivers in this area are the same, brown. No flooding this year, 2 years ago when I was here last, everything was flooded.
We hit the dirt roads for real tomorrow.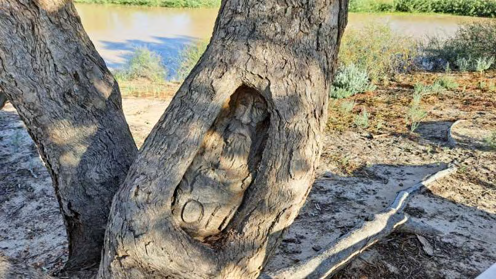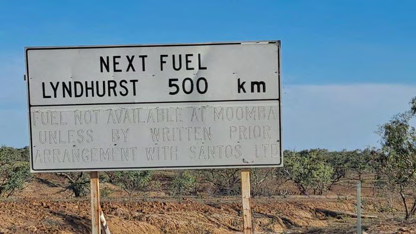 6th May
Off to the real desert today, the Strezleki Desert on a difficult track, the Old Strezleki Track. Our safety list for me includes 2 spare tyres, 2 jacks, spare radiator hoses and fan belts, tyre pump and repair kit, tools, food for a week, over 70L of water, 180L of fuel in 2 tanks, Emergency Locator Beacon, Satellite message system with SOS function, 2 x CB radios, recovery gear, spade, fire extinguisher, etc. The list just goes on. Let the fun begin
Big day Thursday when we left Innaminka, traversed the Old Strezleki track and made it to Camerons Corner where Queensland, New South Wales and South Australia intersect. The tracks were in very good condition today, very smooth with not a lot of corrugations. We helped a motorcyclist who was lost in the desert with no compass, GPS or maps, duh. Pointed him in the right direction once we got him to the right track, gave him some clear directions and sent him off, hopefully he made it. He was on completely the wrong track going the wrong way.
At Cameron Corner we found the Roadhouse closed as there was one person running it and she had had enough. Normally she has 7 staff but cannot get anyone to work there and is on her own. She did open the fuel pumps for a while which enabled Jamie to fill some jerry cans, otherwise he would probably not make it to the next fuel stop. It was quicker to fill cans rather than unhook the caravan. I am OK with my long range tanks.
7th May
Left Cameron Corner and now at Leigh Creek, our last big smoke for a while, well it is large when compared with where we have been and are going. We completed the Strezleki track, some smooth, some rough and surprisingly some now sealed. Tomorrow we are off doing the Oonadatta Track so internet will be variable at best. We have reorganized where we are going so this track has been bought forward by a week.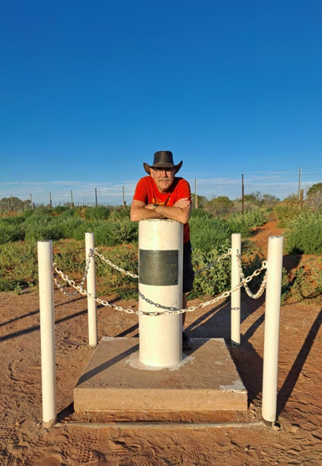 I am standing in 3 states at once, Queensland, New South Wales and South Australia.
Well all is not as planned. Mother nature rained all last night and Jamie had a problem with the caravan lights and brakes. We were in Leigh Creek and he spent the morning fixing the problem. At 1pm, I looked on the net to see if the Oonadatta Track was open after the rain but guess what it was closed. Next was a phone call to the Maree roadhouse, still raining. We now have a new plan and went south to Port Augusta, then onto Coober Pedy tomorrow. We will be doing the Oonadatta Track the other way week after next.
9th May
On the road again, big day driving from Port Augusta to Woomera to Coober Pedy. We will be here for a day or two to see the sights and see what has changed since I was here 16 years ago.
We are planning on going back to yhe Oonadatta Track on Tuesday or Wednesday but it is still closed to caravans, hopefully it will reopen before we leave, but we do have an alternate plan if it is still closed.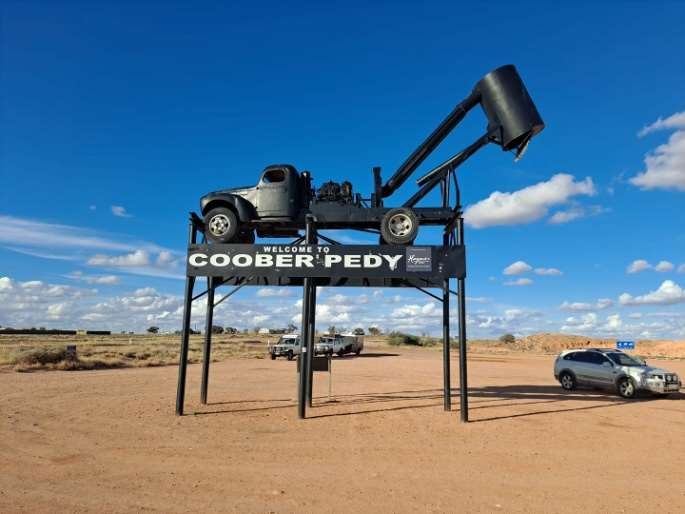 10th May
We spent the day in Coober Pedy which to be honest is a bit of a dump. Nothing has changed since I was last here in 2005. Did a couple of mine tours, a drive to see some amazing countryside, a walk around town, plus we went to an underground church. Now the tracks are open, we are off to Alice Springs the hard way via Oonadatta and Finke.
With Jamie towing an off-road caravan it will be a challenge for him. I have allocated 3 days for this leg and we know that some parts are going to be rough and may take longer.
Probably no net where we are going so next post probably from Alice Springs.
11th May
Easy day today with around 200km covered from Coober Pedy to Oonadatta via the Painted Desert. Good to be back on the dirt roads. We are camping at the Pink Roadhouse. Tomorrow we are off the Finke.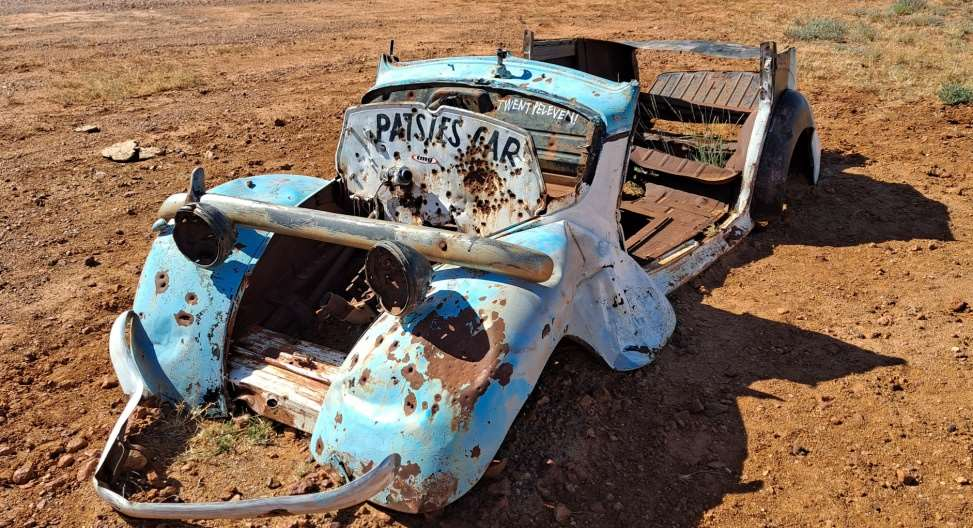 12th May
Started towards Finke in the Northern Territory. The going was good with nice roads for most of the way. The countryside was flat and green due to recent rain. The road had only been open for a couple of days because of flooding.
We had 2 fords to cross which were quite shallow. At our lunch stop we came across a waterhole at Eringa ruins, the spot was so nice, we decided to spend the afternoon there and camped the night. After full on 11 days of travel (3,500km) it was great to do nothing.
Our original plans did not include so much travel but they have changed with Alice Springs being our final destination before heading south back towatds Birdsville, then west for me and home to Brisbane for my travel companions still 2 1⁄2 weeks to go, but our plans are likely to change.
13th May
Rough day today with lots of corrugations, washouts, holes, sand etc but all good fun. We needed fuel at Finke but the community is closed as are most Aboriginal Communities due to Covid so no fuel for Jamie. That meant we had to change our plans and head for the highway where we are now at Kulgera which has fuel.
I had my CB antenna break off due to vibration from the corrugations, 3rd time that it has happened in 3 trips.
On the way we visited the Geographical Centre of Australia, Lamberts Corner. Off to Alice Springs tomorrow.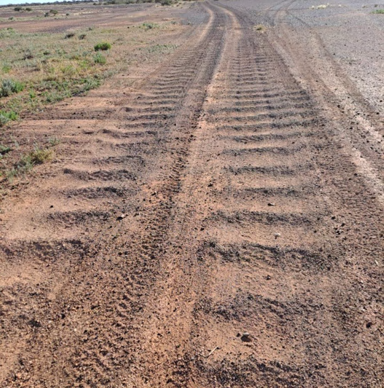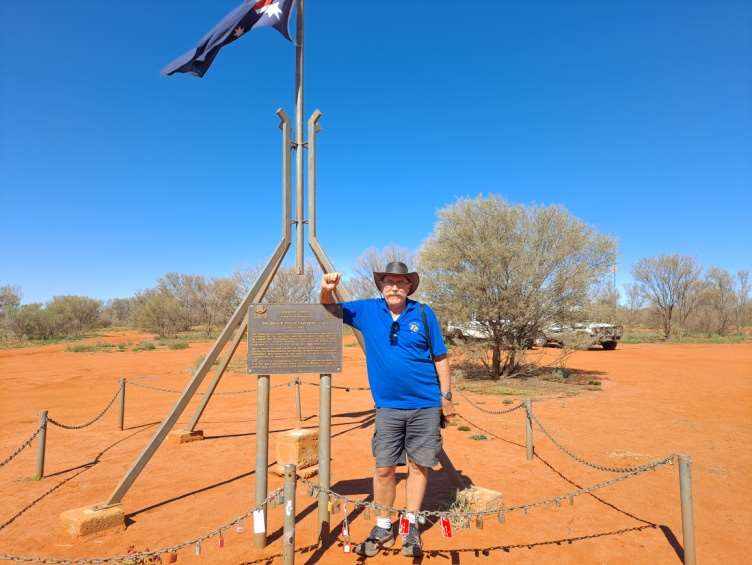 14th May
A short 3 hour drive to Alice Springs where we eventually found a camp that was not fully booked and allowed dogs. The afternoon was spent doing Laundry, getting a new CB radio antenna and microphone cable, then fault finding an intermittent transmission fault with the radio. I hope that I have now repaired it.
Off to do some dog friendly sightseeing tomorrow. The lady at the info centre laughed when I said we had a dog and asked where can we go with it, no where really so our stay in Alice Spings will be short - but I am back next month on my own, and certainly no dog.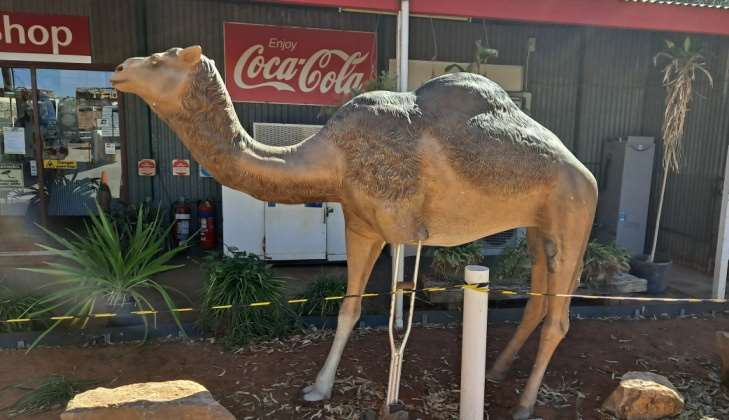 15th May
A slow start with night temperatures around 5 degrees. Off to a 4wd track which had some play areas with soft sand where we had some fun, then a scenic easy 4wd tour, easy in a big 4wd, impossible in a car unless you want to wreck the underside.
Then onto Alice Springs airport where aircraft are being stored due to Covid. I counted 116 mainly large aircraft with many many more small ones uncounted which are stored in amongst the larger ones.
The rest of the day was spent doing chores such as shopping, fill the gas bottle, empty the Porta Potty, refuel the truck, etc as this will be my last big smoke until I get back here early next month.
Back onto the dirt roads tomorrow to Chambers Pillar and for Jayne and Jamie, the start of their return trip home.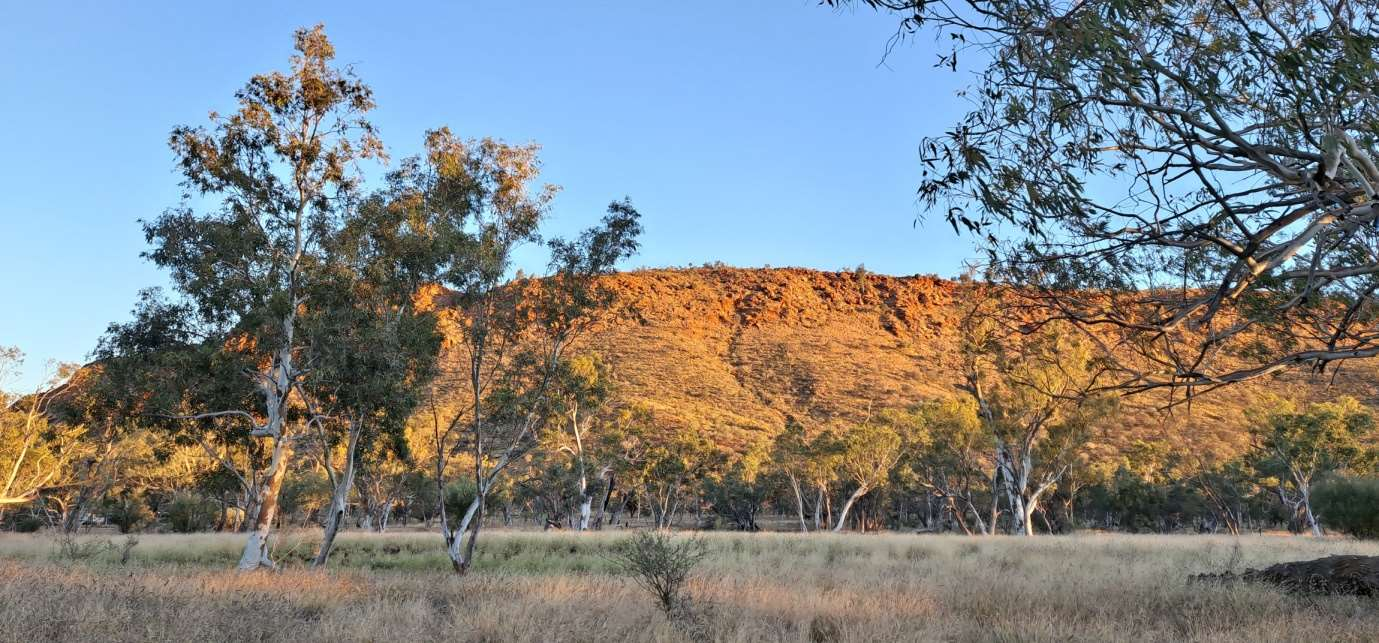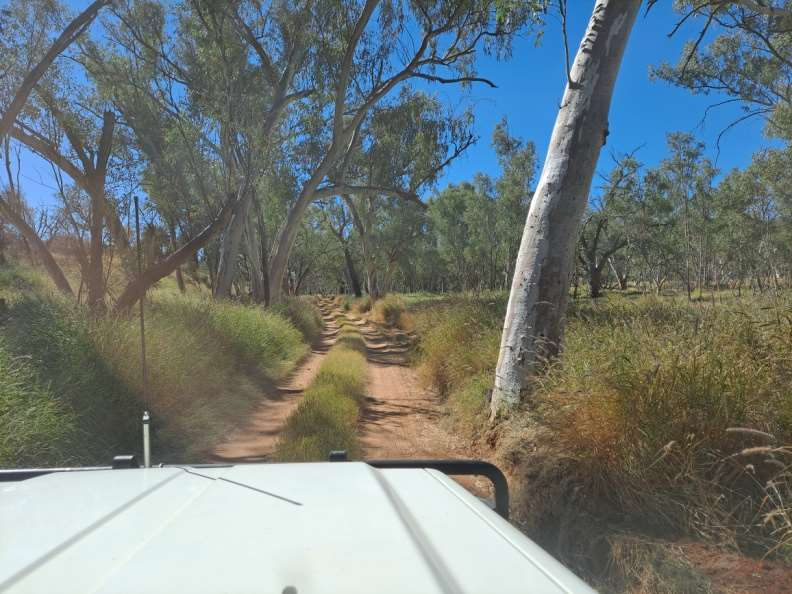 16th May
Big driving day today, all on dirt roads. We have had everything, smooth, corrugated, sand, rock, gravel, dirt, washouts, bull dust, hills, etc but all good. Our vehickes handled the conditions with no problems but what do you expect from 2 Landcruisers. Jamie commented that his old Patrol would have struggled towing a caravan but his Landcruiser had no problems at all.
We ended up at Chambers Pillar out in the western Simpson Desert, some amazing rock structures out there.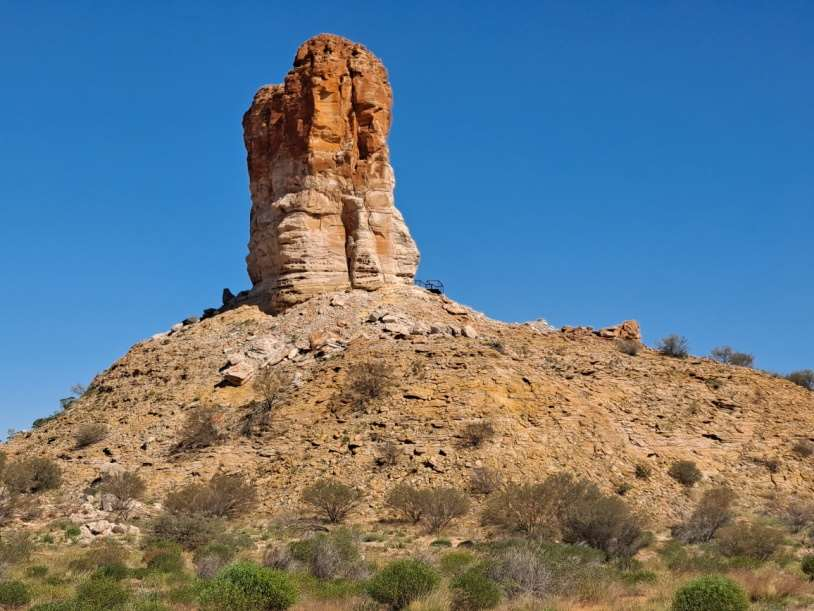 17th May
Visited several meteorite craters that were originally caused by a meteor that was the size of a 220L drum.
From there was approx 100km of reasonably good dirt rosd, then back to the hard stuff until we got to Curtin Springs, our lunch stop and now stop for the night..
At our lunch stop I noticed that bearing cap cover was missing from one of the caravan wheel bearings. The rest of the day was getting grease and a few other pieces so I can wash the old grease and dust out, then repack the bearing with fresh grease and McGiver a bearing cap in the morning. (170km drive to get the bits).
We had a glimpse of Uluru but I have been here before. J and J will probably take a visit tomorrow before heading further south once their caravsn is repaired. Nothing wrong with the caravan, I am really impressed with how it is handling the rough conditions. A bearing cap could come off any caravan on any road.
No big drama and an easy fix. The caravan is still mobile but hopefully I will save the wheel bearings.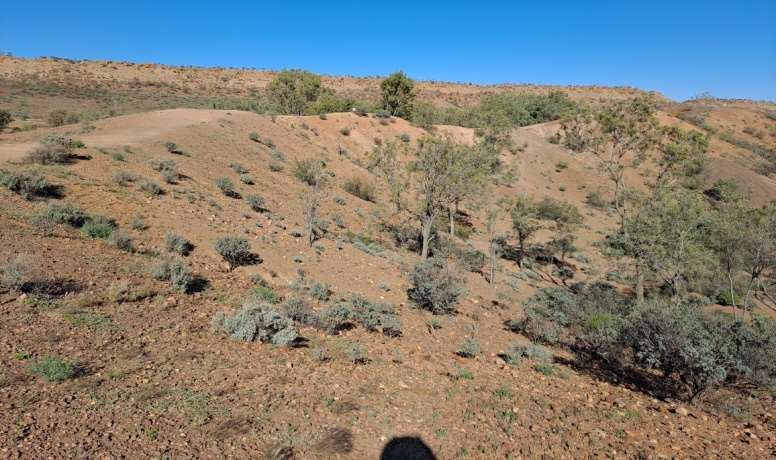 18th May
Now at Marla at yhe start of the Oodnadatta track which we will do over the next couple of days. Today, I was not feeling well so headed off to Marla while JandJ went to Uluru and will catchup with me here tonight. Nothing really to report other than 420km on good straight roads with hundreds of caravans heading north for the winter.
Animals on the road, there are very few this year, I have only seen 3 Roos, 6 Emus, some goats, and cattle. Most unusual and there are not even very many dead ones.

19th May
Now at Cadney Roadhouse where I have a motel for the night. Feeling much better after a big sleep in this morning, now resting the rest of the day. JandJ are off to Cooper Pedy where they hope to get the caravan wheel bearing repaired with any luck and I will meet up with them tomorrow. Massive road train leaving the Roadhouse just as I arrived.

May 21st
Driving down the dusty but good condition Oodnadatta Track, again, after so many years. I took longer this time than last and discovered new features as well as revisited old sites. As the track follows the Old Ghan railway, there is plenty to see with wrecked buildings, bridges, water-tanks and other equipment. The Oodnadatta track was probably the most interesting track to do.
We will finish the track on Saturday and start the final track for J and J, the Birdsville Track that I have been trying to do for years but time or floods have stopped me so far.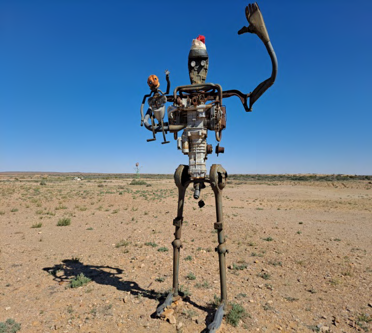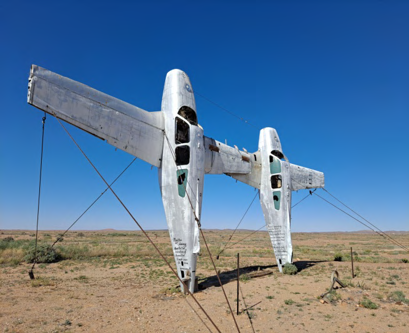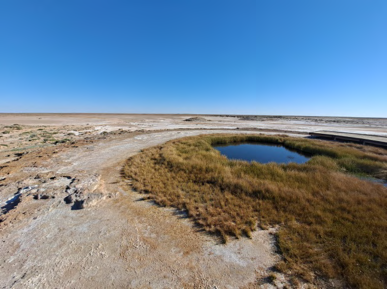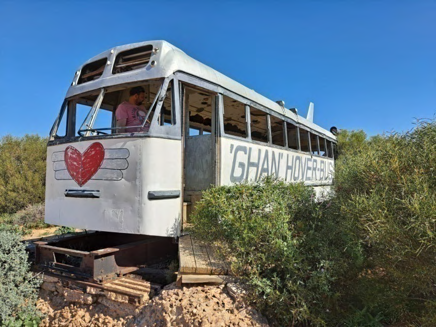 May 24th
Birdsvilles done and dusted, with the emphasis on dust. Went out into the Simpson Desert today to have a play at Big Red, a gynormous sand dune with extremely soft sand almost like powder which is quite a challenge to drive up, walking is also not recommended. I drove the easy track with no problems and watched from the top various attempts at others trying the harder tracks, misty they failed. Jamie tried many times before he succeeded and his wheels were in the air at times on his approach.
My Land cruiser is too heavy and not powerful enough to succeed on the harder approaches. Likewise the first major sand hill into the Simpson Desert track QAA line was also too steep for me being almost as high and just as steep as the medium Big Red track. I did successfully do Little Red sandune in both directions.
Off towards Longreach tomorrow after another change of plan. I am getting the Troopy serviced in Mt Isa next Monday and to fix a couple of minor issues before heading to the deserts again.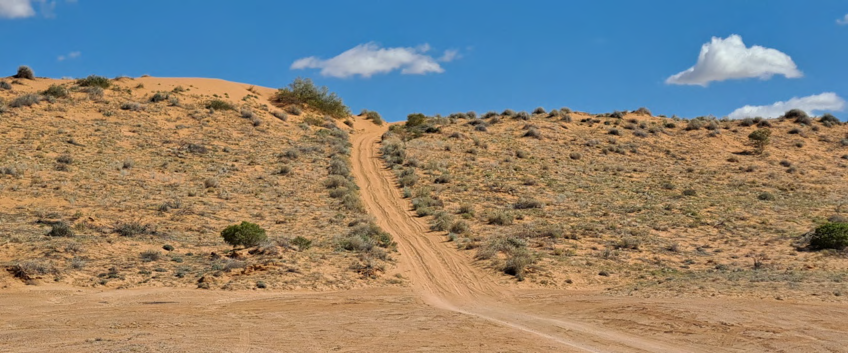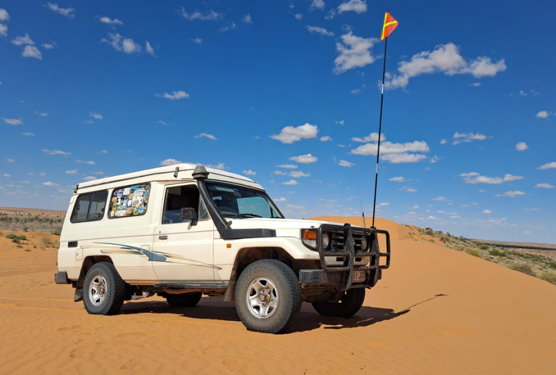 26th May
Another drive, to Aramac via Stonehenge and Longreach. There is not much at Stonehenge other than a 4x4 track with a very dodgy map from the info centre. I gave up before I got hopelessly lost with the myriad of unmarked tracks that were not on the map including the one that I was supposed to be on.
Onto the big smoke of Longreach As I have been here 5 or 6 times now, it was in and out as quickly as possible, especially as the town is full of Grey Nomads, it was even hard to find a park. Shopping was done, lunch was eaten and onto Aramac where once again I am Freedom camping by a creek with heaps of unusual birds around including Wedge Tailed Eagles. Free showers in town for tomorrow morning.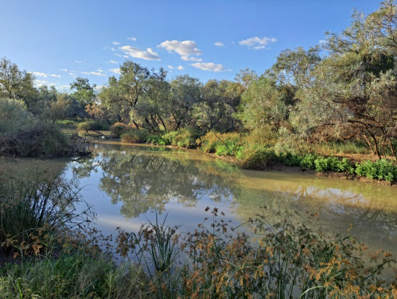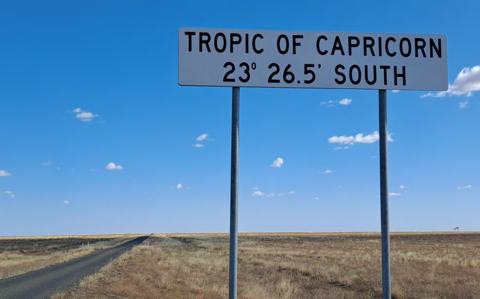 In Aramac today was the Shitbox Rally with a probably about 50 cars all lined up for fuel, then off on their merry way. Lucky I did not need fuel.

Tomorrow will be a 200km drive, then back to this area.
As usual noToday started with a free shower at Aramac. I don't carry enough water to shower everyday when bush camping but Aramac have free hot showers for travelers, great. Right now I am bush camping every night, free, great scenery, no noisy neighbors other than the birds.
27th May
After my shower it was onto a 200km drive in a loop via Lake Dunn on a sculpture trail.
I am now camping back in the same spot as last night. Tomorrow I'm off to Longreach for a quick stop (after another free shower of course), then stopping around Winton
success at shoe shopping as my feet are too big so I have bought some glue to try to repair my boots. I tried gluing my Nike Flip Flops last night which seems to have been successful in the short term anyway, time will tell.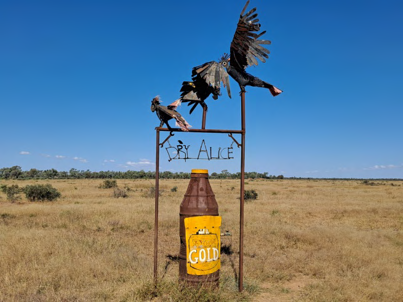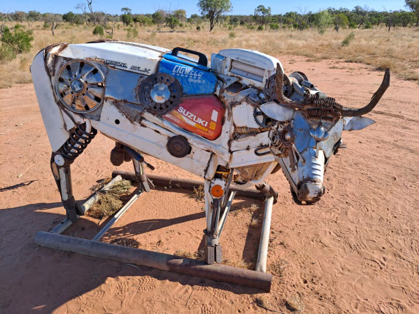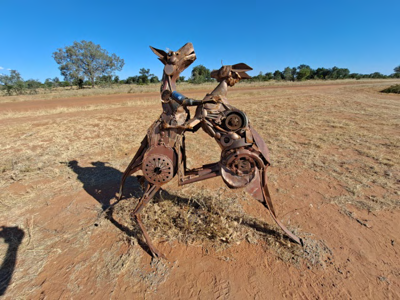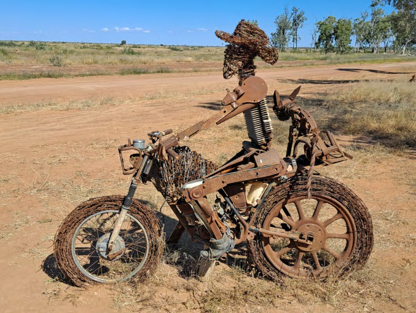 Lake Dunn Sculpture Trail
Highlight: Created by local artist, Milynda Rogers, the Lake Dunn Sculpture Trail features 40 unique sculptures to hunt out and enjoy. These incredible and diverse sculptures are dotted through the countryside on the road to Lake Dunn and Rangers Valley.
Each sculpture is an artwork which depicts an animal or aspect of Outback life, such as jackaroos on horseback, a koala in a gum tree and an emu and her chicks. Milynda created these incredible and diverse sculptures from rusting recycled and upcycled odds and ends generally sourced from the local area.
Along the Lake Dunn Sculpture Trail you'll also find the renowned Gray Rock historical site, the wonder of Horsetailer's Gorge, the mystical Healing Circle and the glorious freshwater Lake Dunn. If you have the time, make sure you also search for "Where's Wally", a firm childhood favourite.
How to Get Started
Simply grab a map from the information centre located in Aramac, Lake Dunn or Jericho to get started. The 60 kilometre road section from Aramac to Lake Dunn is sealed and there are a number of sculptures along this section. The remaining 140 kilometre road is unsealed with some corrugated sections and is where you'll find the majority of the artworks. There's camping available at Lake Dunn and outside of Aramac, as well.
May 28th
Another fill in day as I have to be in Mt Isa Sunday night. Today was a quick trip back from Aramac to Longreach where I bought a ticket and lunch for the Old Time Tent Show. Been there done that in 2018 and wanted to do it again. This time, the actors were different with a different script, not as good as before but still very enjoyable.
Note I did not do any other tourist stuff in Longreach, this would be my 5th or 6th visit here from memory so there is not much that I haven't done before. I have even walked on the wing if the 747 twice.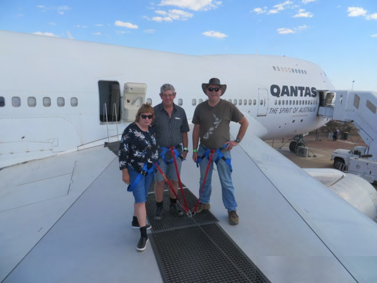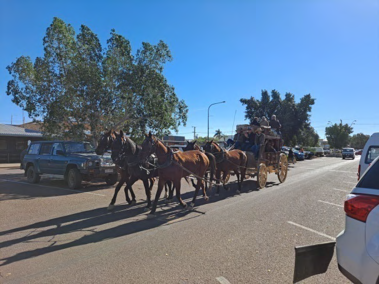 Then some chores such as topping up with water and fuel, emptying the Porta Potty and taking a few photos. Then off to Winton for tonight's bush camp.
This is dinosaur country but once again been here done that before so there will be minimal dinosaurs this time.
Off to do some more sightseeing tomorrow and tick another place off the bucket list.
May 29th
Been to Opalton today, an old now almost deserted Opal Mining town. As usual there is not much to see as everything happens below ground in the mines.
Then back to Winton to see the Musical Fence, Arnos Wall and a truck museum. All the times I have been to Winton and drove right past the museum which has quite a few restored trucks and dozens OG boys "prefect" trucks asking to be restored.
Off to Blue Heeler Roadhouse for tonight's stop.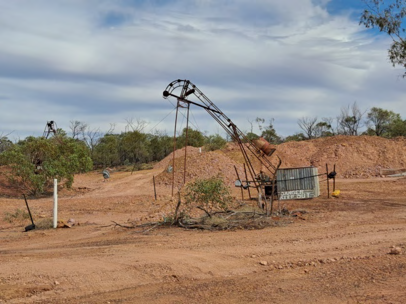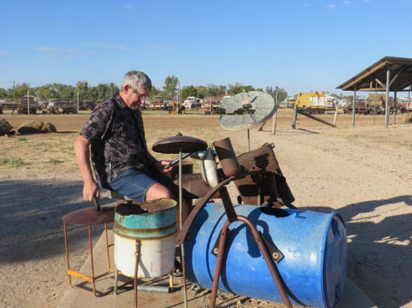 Graham trying to play the outback drums and the musical fence in 2018.
Steve and Graham at the Blue Heeler Pub 2018.

May 30th
Now at Mount Isa which is closed except for the Info Centre, Petrol stations and Maccas. Did a sundae at Maccas so I have had that fix until next time. Sunday in the outback means most places are closed; it will be a different story tomorrow.
I stopped at the abandoned Mary Kathleen Uranium mine on the way, 3rd time for me. The road in is now rough as and a high clearance 4wd is required. On the way out, I stopped a guy in a new Mercedes car who was on the way in and warned him of the road conditions. He was not worried and said that he would make it, yeah right with no undercarriage left. No way would he get far. Another outback idiot but at least I have a vehicle that can cope with the conditions.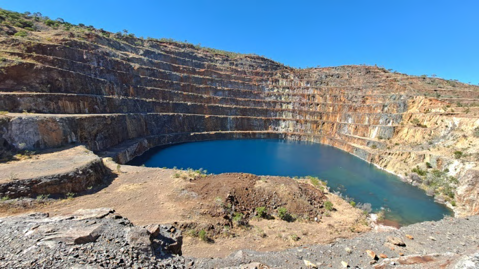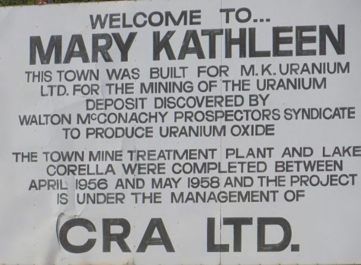 Tomorrow the Troopy goes in for a service and a few minor repairs while I go shopping and also I am booked for my first Covid jab.
I may also seal a couple of holes in the floor where dust is coming into the Troopy via the water and grey water pipes now that most of the contents are in my hotel room being sorted and repacked.
2 nights in a hotel, great after a month in my Troopy.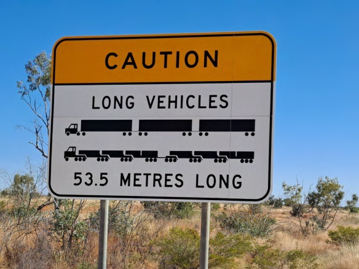 May 31st
A day off in Mt Isa. No sleeping as I had to get the Troopy to the workshop, then walk into town for my Covid Jab. What a performance when they wanted me to write a book on my life history for their records, being a traveller and not at my normal doctor was the problem. Then off to buy a new pair of shoes which is, always a problem with the size of my feet. Anyway Kmart had a suitable pair, not as good as my good walking shoes, but beggars cannot be choosers in Outback Australia and they do
fit and are comfortable. Not a lot of choice out here, Kmart or not much else with my size. Also the glue on my boots seems to be lasting for now.
I also did planning on the next stage of my trip today. I will be off doing the Sandover Highway tomorrow, not really a highway, more a little used dirt track for over 700km to the Stuart Highway which runs Alice Springs to Darwin. Then I decided that the Tamani Track is a no go due to fuel stops being closed because of Covid restrictions and there was not a lot of spare fuel if the track turned out to be rough so rather than risk running out, I will be doing a track further north, the
Buchanan, Butine and Douglas roads to Halls Creek. I will have enough fuel and am told that 400km is sealed, a bonus.
Posts and emails will be as and when I get the net which is unknown until I get there for the next few weeks as I will be back in the deserts.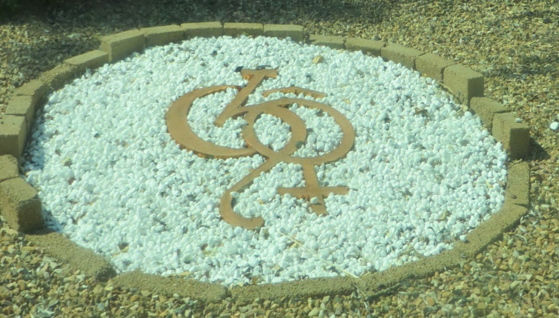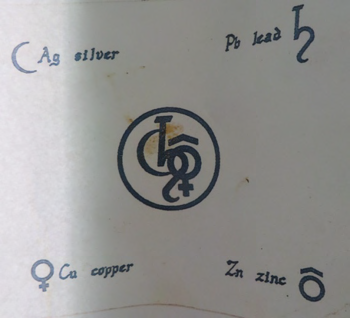 Mt Isa Mining Symbol, four elements mined here.
back to top