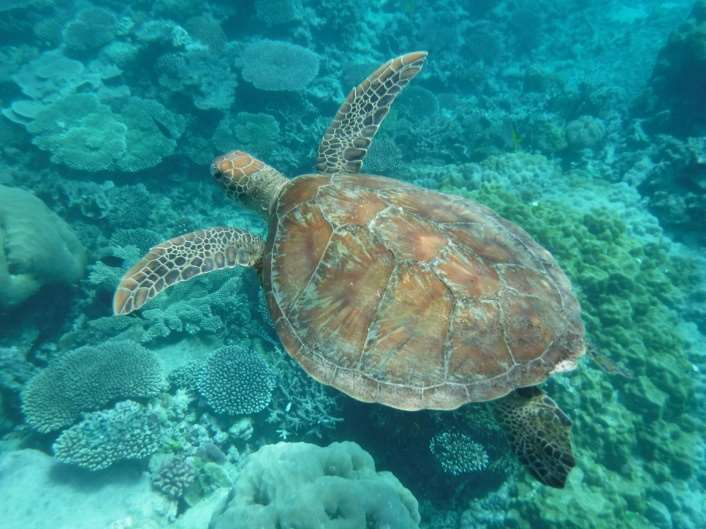 Australian Outback Adventure - Part Three
July 1st
I saw something very strange and unknown to me. Last time I saw it was just after we moved to Omokoroa. What I saw was the sun-rise; I am never up that early. Anyway I got on the road early to get to Lawn Hill so I could have most of the day there.
Now at Lawn Hill Gorge, another Gorge, not as spectacular as the ones on the Gibb River Rd but still pretty good. Did a walk today of about 8km to various lookouts and points of interest followed by a swim, boy it was cold but swim beats shower nearly every time, especially in the hot outback.
My camp is at Adels Grove about 10km away and I am here for 2 nights, well that is what I have paid for but they took absolutely no details from me so I could free camp here and they would never know. I have plans to be off again Saturday so will not be staying the extra night.
July 2nd
A lazy day, slept in again, this could be habit forming, drove to the gorge for an easy walk only to find the access bridge was not there but I walked a km or so anyway.
Back to camp for lunch a few chores and a swim, no shower again today. I am told by other campers that the showers are cold as the hot water has packed up so cold shower or swim, I will take the swim any day.
Next it was back to the gorge for a 2km walk followed by my boat trip up the gorge. Time for another walk at the top end of the gorge so I chose the easy option today.
Not sure what tomorrow (Saturday) will bring, where I am going, etc as I have 2 1/2 days to get the Karumba so have plenty of time and a couple of options.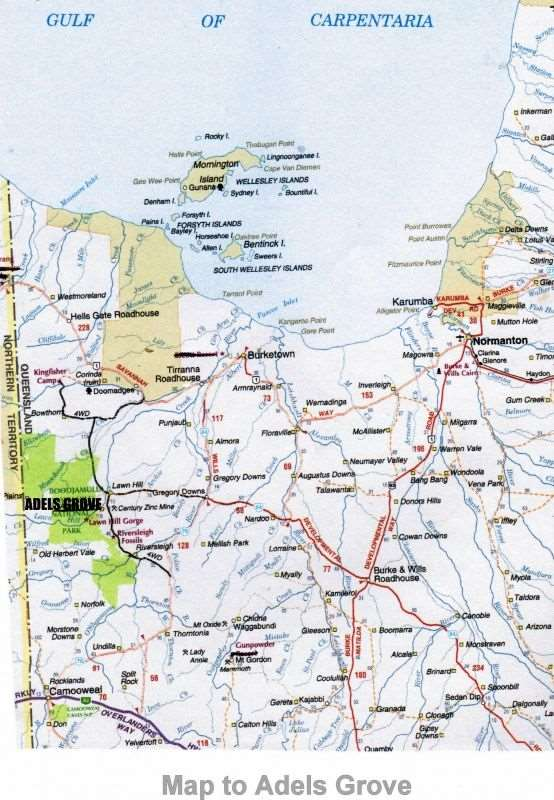 July 3rd
Time to move on and I decided to visit Hells Gate Roadhouse, why, because I had a day spare and it is there. I took the shortcut dirt road through Lawn Hill Station which was a great road, very scenic, a couple of waterholes and I took my time.
About 30mins into the drive I came across a herd of cattle being mustered on the road. A musterer on a bike stopped me and asked me to park 30m from the road in the paddock. I parked, turned the engine off and no problem until the cattle saw me and decided that I was too scary and decided they did not want to come my way, a problem for them.

I spoke to the bike rider again; there were 700 head of cattle. They were trying to get the cattle between a fence line and the road opposite to me and were having trouble. I suggested that I went quietly a lot further into the paddock around the cattle and they would go where they wanted them which is what happened. Very good entertainment.
From there it was cruise mode to Hells Gate where I had lunch. It was supposed to be my overnight stop but at 1pm, I wanted to press onto Burketown.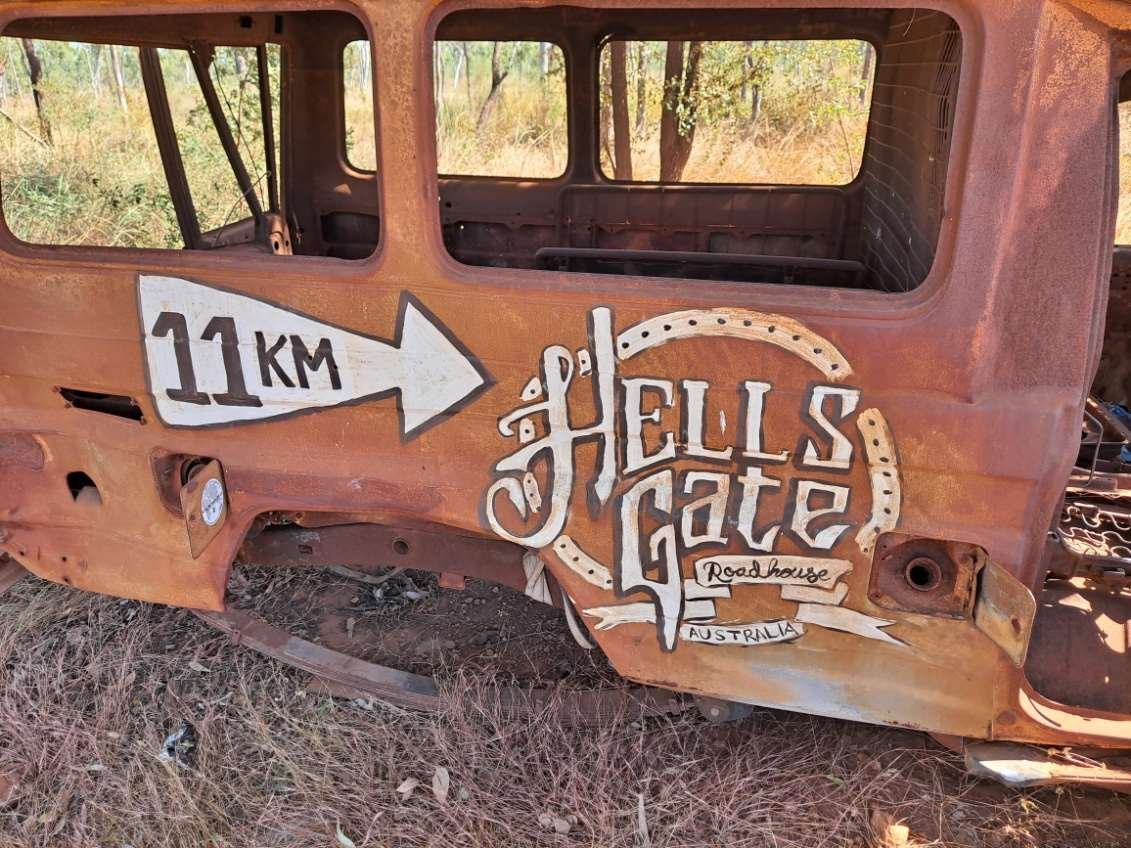 At this time the old cruise control problem that I had at Cape York in 2018 returned, aftermarket cruise control systems are great but not reliable on dirt roads. Stones get thrown about underneath the vehicle and attack vital parts which are not designed to be hit. Looks like I will have to get parts AGAIN in Cairns. I am surprised that it lasted this long on the dirt roads that I have done since 2018.
I arrived in Burketown to find the camp is full so decided to camp by the river, $35 a night and have to wait until 530pm to be allocated a space, what is plan B? Not waiting an hour at that time of day with everything closed and to pay that money for what is a free camp with no facilities anywhere else.
I retreated 30km to the Tiranna Roadhouse where for $12, I got a very nice grassy camp site with free laundry, a bonus, just bad internet, again. Grassy sites are rare where I have been, Lawn Hill was a dust bowl as are a lot of places. It was good to do a quite cleanup and wash the floor. Being dust free is another bonus. For the first time in weeks, after my shower, I got back to my camp with CLEAN feet.
Heading towards Normanton on Sunday.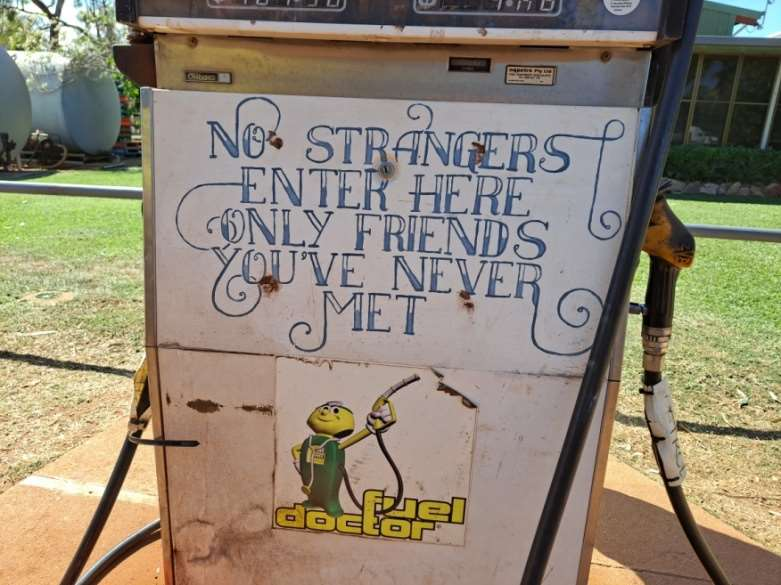 July 4th
Another day of driving with the main highlight for the roads is that all planned dirt roads for this trip are done and dusted, no more, sealed roads from now on unless I decide to do short side trips. I can now try to de-dust my Troopy but dust always wins so there will still be dust there forever joining leftover dust from previous expeditions.
I left Burketown late morning and headed for Leichart Falls. No water right now, just a pool of water at the bottom that was supposed to have crocs, not that I saw any today.
At the view point at the top was a mixture of soft sand and flat rock. I parked on the rock but a youngie came by in his highly modified Ute complete with camper trailer, boat on top, etc. He headed straight for the sand as you do at that age. As you now guessed, he got bogged, good entertainment while eating my lunch. Out he gets and lets his tyres down, no good me thinks and I was right.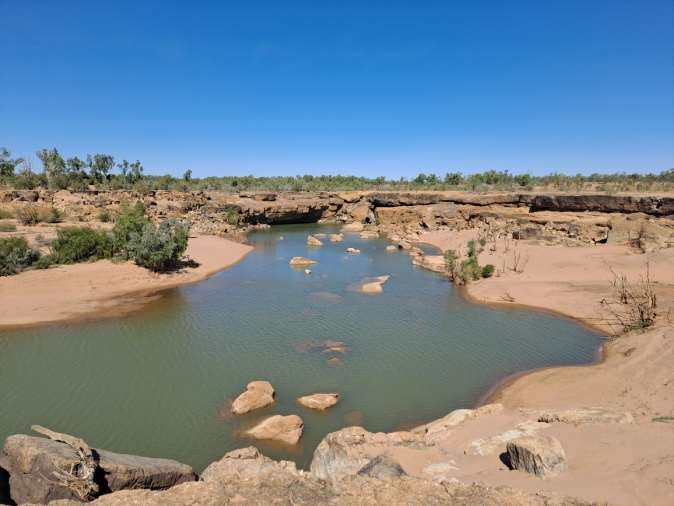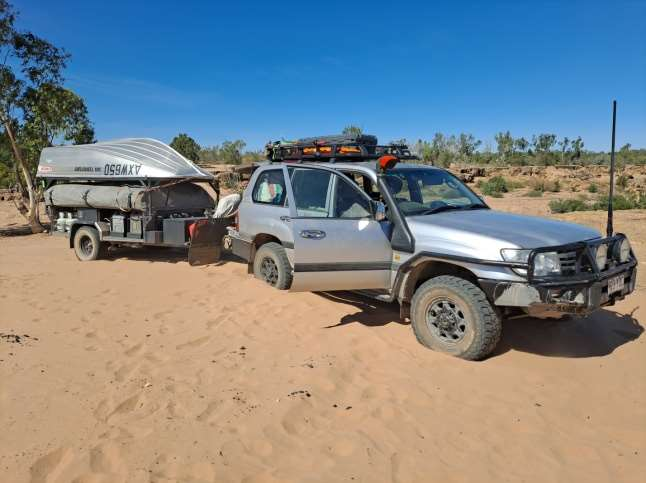 Another older guy goes has a chat and as I had finished lunch went over to see what I could do to help. Nothing it was all under control with the 2nd guy who had a Ford Ranger.
Mr Ranger then backs up on a rock shelf, and then goes over the edge with about a foot vertical drop so he had his back wheels in the sand, front on the rock shelf, side steps supporting the car in the middle with expensive noises being made when he moved. Next he tried to go forwards, no go, back wheels spinning in the sand. I suggested that be put it in 4wd which worked with more expensive noises as be came over the rock ledge.
He them moved position, got on the sand and backed to within 2 metres of the bogged Ute/camper trailer. I asked why so close, he said to tow him out. Then I suggested that he move to the flat rock shelf about 7 or 8 metres away or he will be bogged as well, good idea so he moved.
By then the owner of the bogged vehicle had found a snatch strap. Mr Ranger then puts it over his tow ball, not a good idea as people have been killed by doing that and breaking a tow ball. Anyway we secured the strap properly and he did a successful recovery.
A good lunch time entertainment session all for free. Note 4wd recovery can be very dangerous if you don't know what you're doing and is very specialized.
I was out of there then quick smart as these 2 guys plus 2 caravans were all heading my way and I did not want to pass any of them on the next 150km of dirt road to Normanton. Never saw them again, strange that.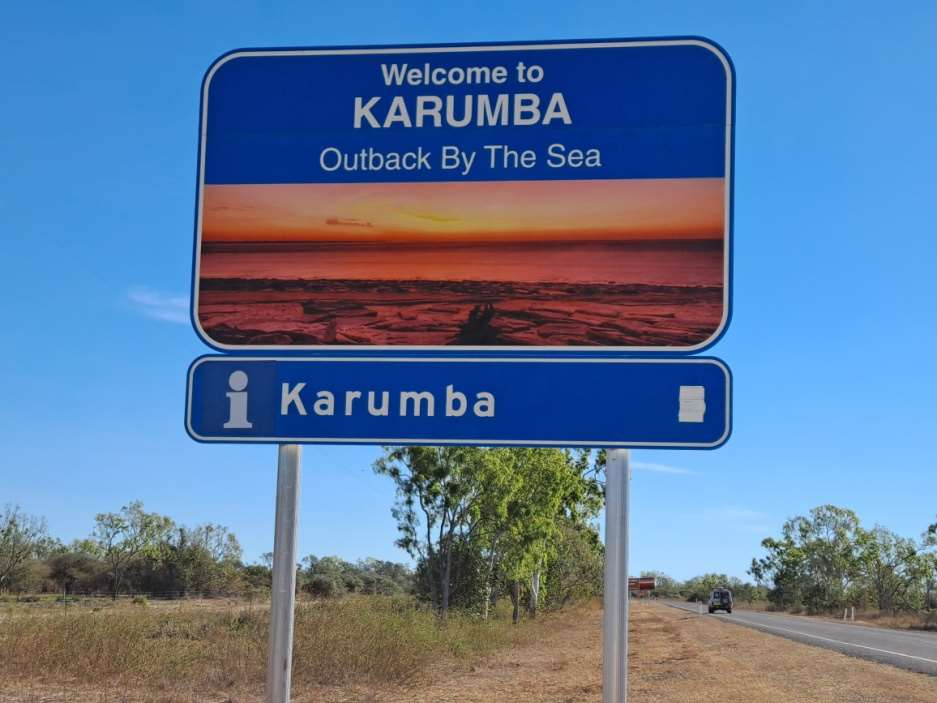 Now I am at Karumba for 3 nights with mainly R&R on the agenda as I am now nearly 2 weeks ahead of schedule due to Covid in the Northern Territory and not waiting around until now to do anything there.
Nothing planned for Monday other than some phone calls organizing the next couple of weeks and a fishing trip booked for Tuesday, wind permitting. Last time I was here, our fishing trip was cancelled due to wind like I have had today
July 5th
Rockin and rollin and rattlin and bangin.
A slow start with a drive to Normanton for some shopping and to organize a train trip for Thursday. All booked out but there is one today at 1pm.
The trip was on a railcar with a couple of carriages built in 1950. The tracks are on sand, not rock and have been there 130 years. With such an old train and unstable foundations for the tracks, it was rockin and rollin and rattlin and bangin, but all good fun. Max speed was 40kph.
The engine is an old Gardiner with a 4 speed manual crash gearbox. We travelled and hour to Critter Creek and back again with typical outback scenery.
It was a good way to fill in the afternoon.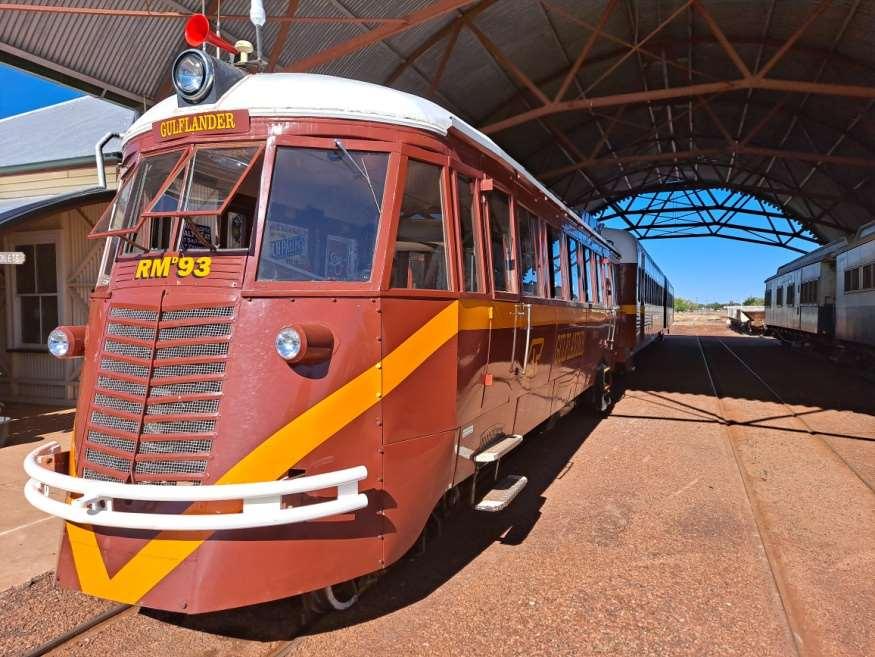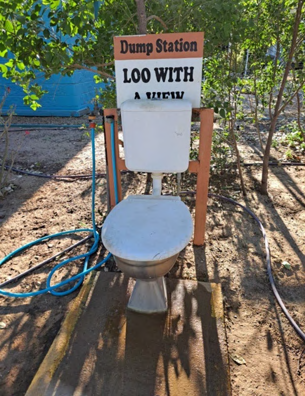 July 6th
For the 2nd time this trip, I saw the sunrise, this time from a boat on the way to fishing. As all you fishing people out there know when fishing you have good days and bad days, and well today was definitely not a good day. All I caught where 2 catfish and yellowtail. Out of 4 fishers on the boat, the others only kept 3 baby sharks. It was a nice although windy and chilly day but no fish for dinner, chicken instead.
The rest of the day was looking around Karumba, lazing in the freezing cold pool and taking it easy.
On the road again tomorrow, just another 5 hour drive to Mount Suprise.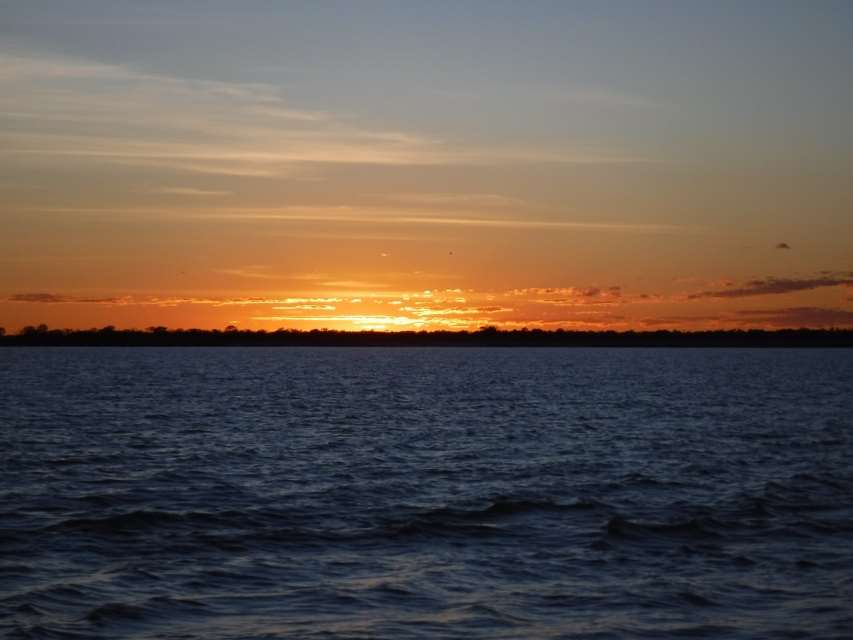 July 7th
Just another driving day, around 500km in 6 hours including stops. If you sit on 100kph, you actually do 100km for close to it in an hour. Now for some comments on the roads over here.
I have made a lot of comments on the Australian dirt roads but not many on the sealed ones. Australia is huge, ginormous when compared with NZ. Distances are measured in days driving, not kilometres normally.
In the main, the outback sealed roads are fantastic. Long, straight, wide, flat and amazing when compared to NZ roads, NO PATCHES OR POT HOLES. There are plenty of overtaking opportunities although I think twice, then again before I overtake a 53 metre long road train that is doing 90kph. My Troopy is not that powerful.
However by the end of today's drive as I was leaving the true outback, the rot set in, firstly was hills. The Troopy does not like hills and you have plenty of time to enjoy the scenery. Next were patches on the roads like in NZ. Still not a lot of traffic, yet, but the Bruce Highway from Cairns to Brisbane is to come and will be busy and badly maintained.
Even in the Troopy, I am one of the faster drivers generally sitting at between 90 and 110kph. Speed limits are generally 110kph and 130kph in the Northern Territory.
Australian drivers out of the cities are a different breed to Kiwi drivers, more laid back, courteous and law abiding. I have seen virtually no Police on the roads on my travels; the drivers are just more disciplined.
I love driving these roads.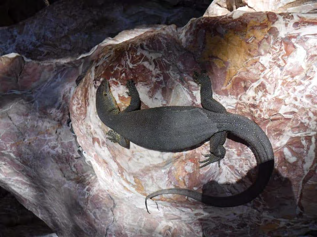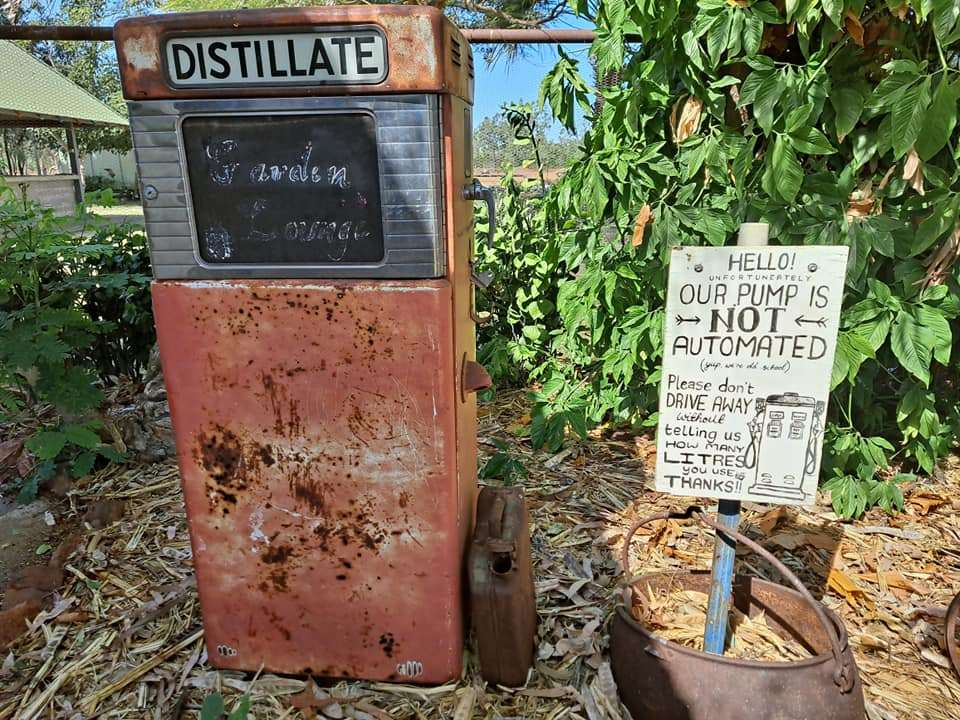 July 8th
I am talking about 2 different things. When I woke up, there was a slight lean on the Troopy that was not there last night, yes a tyre had gone flat but only on the bottom. It was duly changed with one of the spares, and then pumped up. Now 10 hours later, guess what, no change in pressure. Also no sign of nails, screws, etc. A total mystery that may or may not be solved.
Dark at the bottom are the caves at Chillagoe where I am staying the night. The first 2 caves I did were DIY caves with the first having a very steep very slippery slope downwards, not going there as it would be almost impossible to get back up the slope but my sunnies decided to jump out of my pocket, go down and ended up OK clattering their way to the bottom for what seemed like ages. Kmart have good polarized sunnies fir around $10 that fit over my glasses so no great loss and at that price, I have several spare pairs.
The next cave was climbing over rocks and boulders. Being a hot day, the sweat was dripping off me but mission accomplished.
Then it was the first of my paid cave tours. A great tour of Donna's cave, certainly worth it with another tour tomorrow morning.
A very refreshing swim in the camp pool ended my activities for the day. A meal out is next on the agenda. I have been promising myself a meal out for weeks but no place I have stayed at has had a restaurant nearby.
My plans from here have now been finalised Covid willing. I am off the Cairns tomorrow afternoon and have booked an apartment for a week. Then a run to Brisbane (3 to 4 days) for a Covid test (a requirement to get back to NZ), catch-up with a few friends and rellies, then flying home on the 22nd July.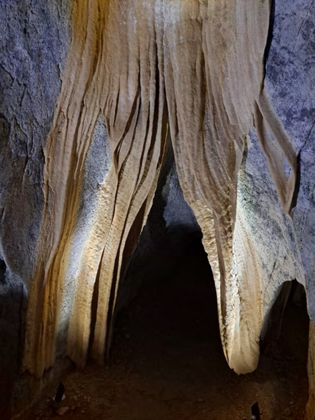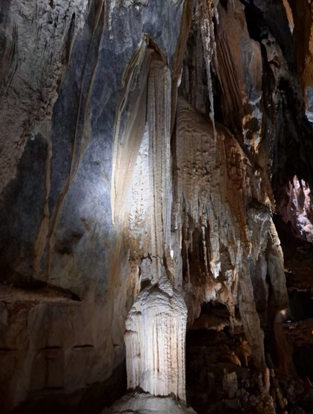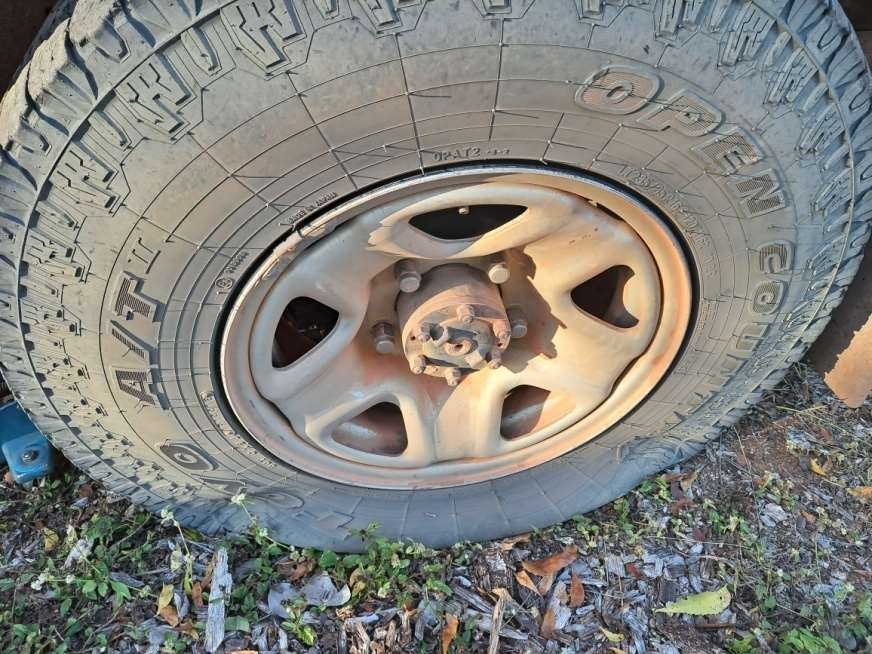 July 9th
Well the Royal Arch cave tour today, another great cave by Australian standards but no Glow Worms make them so so when compared to NZ Glow Worm caves.
Then it was off to the big smoke, cars, cars, trucks, cars, traffic lights, roundabouts, cars and more cars. After wandering the outback for several months with at times seeing one car a day, then there are thousands all in the same place. Horrible and the Troopy is like a slow tank in traffic, but it has to be done.
I am now in an apartment in Cairns for a week. First off is to sort out my junk, I have emptied the Troopy of most stuff and started sorting, cleaning, repacking, finding lost stuff, etc. Also planned is getting a haircut so I don't look like the wild man from the outback, shopping, more swimming in gorges, getting the Troopy serviced, doing a dive trip and whatever else happens. Just doing nothing also appeals.
This is the first journal entry from my laptop; it has not been out of its case in over 2 months and took 2 hours to do all the updates, then backups of backups of my trip photos. There should not be as many typos as previous posts as they were all done on my phone.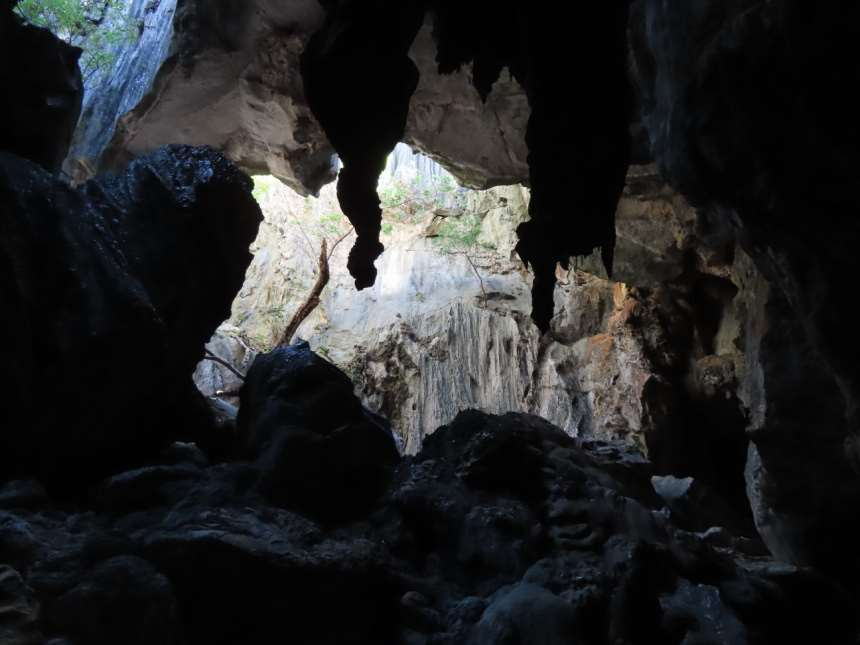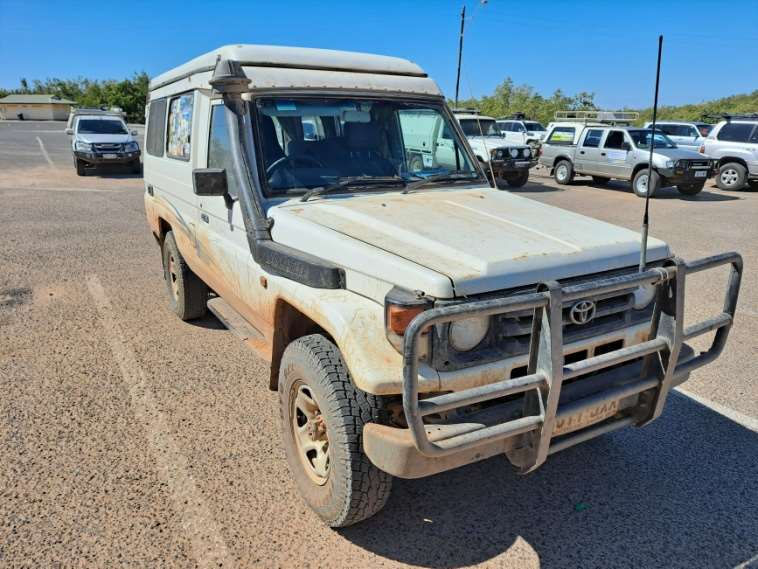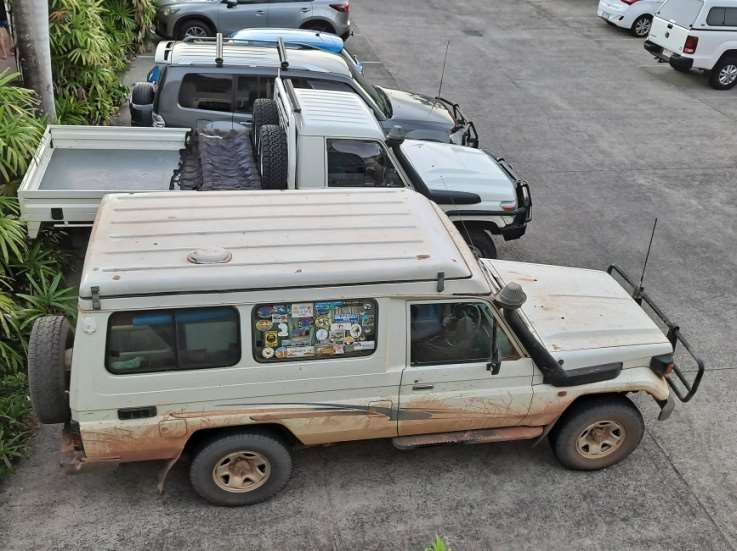 July 10th & 11th
It was a shopping and sorting day on Saturday. Then a walk around the waterfront. Nothing special.
Sunday, I went to Port Douglas, what a change 19 years makes, from a sleepy town to a bigger Noosa. There is nothing that I recognized.
Onto Mossman Gorge for a swim. Once again, it is all commercialized with shuttle busses to the gorge and no swimming.
Onto Daintree Village which we first visited in 2002 just after we finished the 4WD Creb Track in a rental Landcruiser. That is a track that was easy then, but by all reports it is now totally trashed and impossible without a much modified 4WD, a shame as it was a great drive. Still bought the sticker, "I survived the Creb Track" and it has joined other stickers on the Troopy. On arrival at Daintree village was a sign, next river cruise at 2pm, 5 minutes time. Something to do so the next hour was spent croc spotting.
Back to Cairns to change into some respectable clothes for dinner, a bit of a mission as most of my clothes are for the outback and I need my one and only good clean shirt for later in the week. Laundry day is Thursday this week. Anyway I managed to get some clean sort of respectable clothes and my glued up boots (remember they fell to bits early on in the trip, they are now OK) were the best footwear I have with me after the outback trashed my shoes.
I then had a very nice posh dinner down at the Marina. The first really good meal since leaving NZ, it was exceptional (so was the price, Cairns is expensive). If anyone is visiting Cairns, I highly recommend Ollies restaurant overlooking the Marina.
A day off tomorrow as the Troopy is getting serviced so it will be a good opportunity to catch-up with laptop stuff and some business stuff that has become urgent after 3 months of neglect.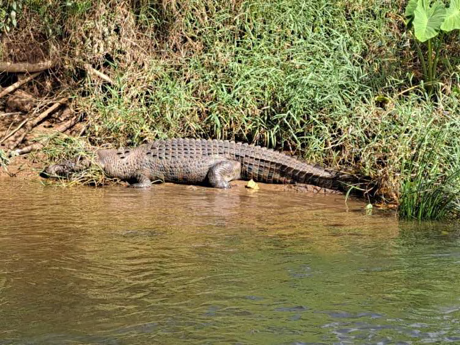 July 12th & 13th
Well, this just about ends what has been a great adventure, expedition, or whatever you want to call it. I still have just over a week before I hopefully fly out to NZ, Covid willing.
I have been grounded for 2 days while the Troopy is being serviced and waiting for new wheel bearings and swivel hubs. The water from 100+ water crossings mixed with dust and dust did a bit of damage.
It has given me time to get the laptop out, last seen 2 months ago. Time for backups of photos to be completed, 3 months of emails not done on the road to be processed, a few bills to be paid, travel presentations to be started as I already have bookings for when I return to NZ, etc. Also time to visit the Laundry for the last time while on the road.
Tomorrow is a dive trip, Thursday a business meeting, cleaning the inside of the Troopy and repacking it, Friday, leave Cairns and start the long trek back to Brisbane with a stop at Paronella park on Friday. Then it will be 4 days of driving the inland route arriving in Brisbane Tuesday, flying out Thursday. I have to get a Covid test Monday afternoon or Tuesday morning, a condition of flying back to NZ.
Here is a link to my Google Photo album of photos I have taken on this trip - the good, the bad, the ugly, all unedited and quite a few should be deleted. Enjoy.
July 14th
Snorkeling on the Outer Barrier Reef today. An overcast day with a lot of wind which meant rough seas which meant water getting into my snorkel which meant inhaling small amounts from time to time. Overall it was a good day, as any day Snorkeling on the reef is, especially when I followed a turtle for about 15 minutes until I realized it was heading in the direction of a continent thousands of kilometers to the east.
The coral is not as colorful as previous dives but more colorful than my camera shows. After the dive, I got my Troopy back with new oils and other parts that were damaged by all the water crossing, dust and sand. There are still a few minor issues still to sorted but they can wait. Tomorrow is business in the morning and cleaning the interior of the Troopy and generally reloading my stuff for an early departure on Friday.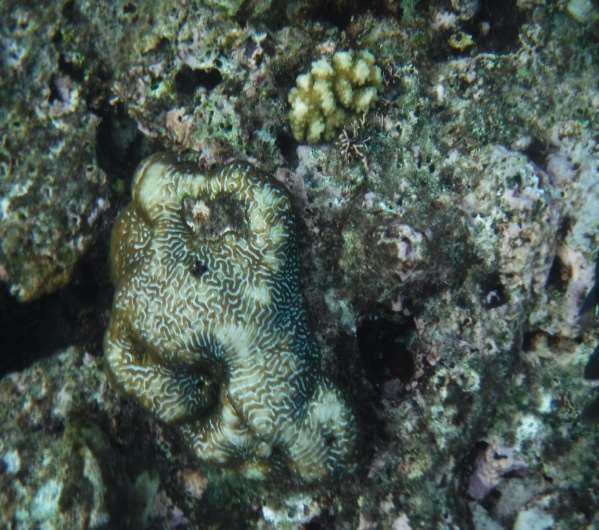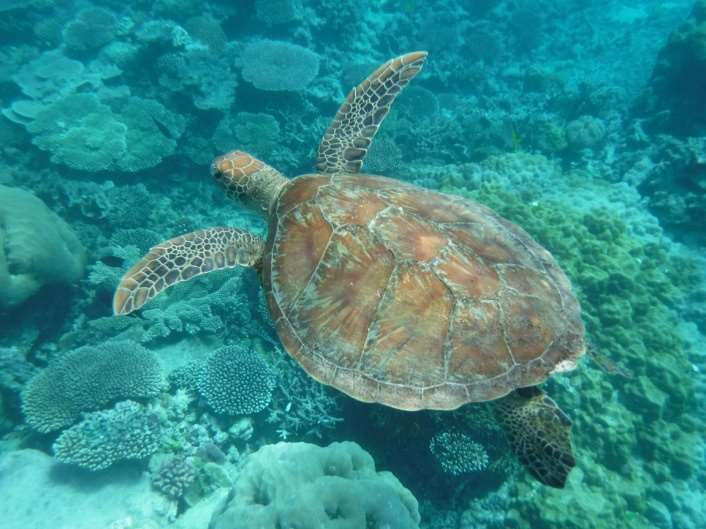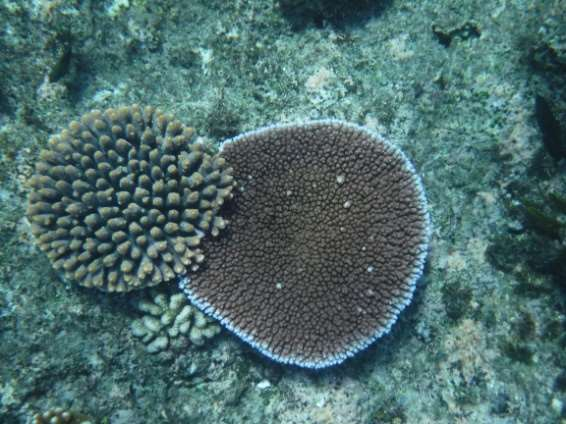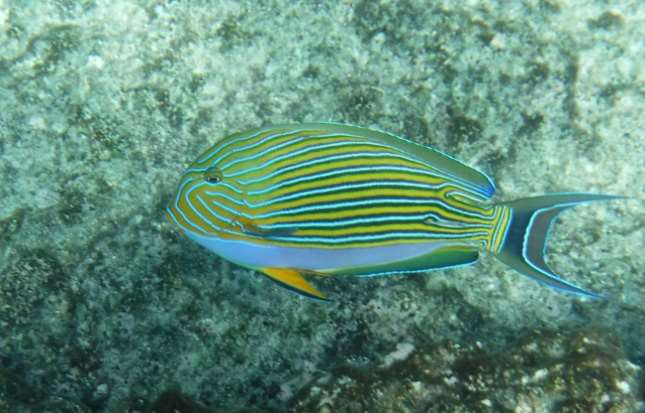 July 16th & 17th
Left Cairns on my trek south which going the inland way with a couple of side trips I is around 2,000km and I have allocated 4 1/2days for it.
First stop was Paranella Park, the leftovers from a mad Spanish Guy who unfortunately built his buildings from cobcrete with mica in it which is not good for longevity. A very picturesque place although rather expensive.
Then onto a free camp, between Townsville, and Charters Towers.
Today was a driving day, not much yo report other than a road yrain that decided he wanted to drive on the wrong side of the road as I was passing him. A quick word on the CB and 10km later, I got past him.
Then onto Clermont, and Teresa Dam campground where I am for the night with a great view of the lake.
Just more driving days the next 2 days.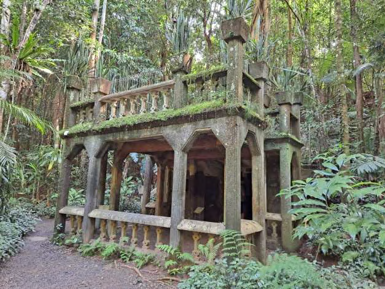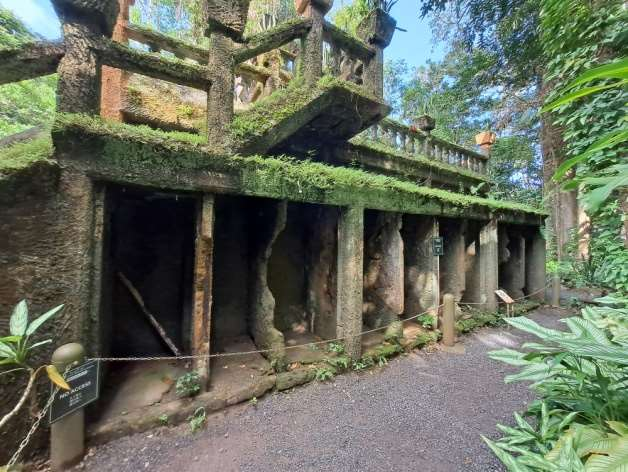 July 18th
Another day on the road, nothing much to report other than another free camp by the Dawson River at Theobald, a great camp complete with new showers and toilets, it is even better than most paid camps that I have stayed at.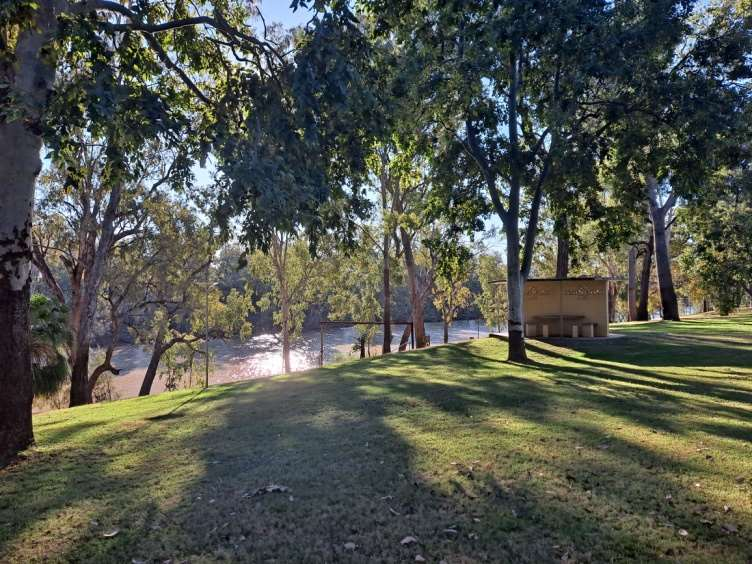 This is my last night on the Troopy if all goes well, I have booked a hotel in Hervey Bay for tomorrow night, then 2 nights with the Smith family in Brisbane, then NZ on Thursday.
I have to get a Covid test Tuesday to be able to travel.
I only have a 400km drive tomorrow, this just shows you how big Australia is, I am taking 4½ days to get from Cairns to Brisbane driving around 5 to 6 hours a day, admittedly on the back roads that are 200km longer but there is virtually no traffic or towns when compared with the Bruce Highway which is the main road and is full of trucks, caravans and road works, all very frustrating to be around. I have done this drive from Port Douglas in 2 days when Mum was ill but was shattered at the end of it, nearly 2000km in 2 days, not good.
July 19th
Now in a motel at Hervey Bay, then Brisbane tomorrow. I had my compulsory Covid test to travel to NZ this afternoon so should get the result tomorrow or Wednesday.
No photos today, just another drive. Only 3 hours drive tomorrow. Then I will be hunkering down in Brisbane until I fly to NZ Thursday lunchtime. My main chore will be try to change the colour of my Troopy back to white and pack for my flight.
To all who have been getting my Zoleo checkin messages, today's is the last one as my account was renewing tomorrow for another month but as I am now in civilization, I don't need it until my next trip so it has been cancelled.
July 21st
Well this ends what has been a great adventure, expedition, or whatever you call it 2 weeks early due to the Northern Territory lockdown and I have booked an earlier flight home. 3 months on the road away from home, away from Chris who I am missing heaps is a long time. With any luck, I am flying home tomorrow, otherwise the adventure will continue until I can fly. Today is cleaning the Troopy day. The photos are of where the Troopy started the trip outside J&Js place on Bribe Island near Brisbane.
I have travelled 22,340km, been everywhere from cities to desert tracks, from people everywhere you look to seeing 2 vehicles in 3 days. I have been on all types of roads, motorways, sealed roads of multiple lanes down to one vehicle width, gravel, dirt, rock, sand, sand dunes and bulldust roads, been there done that. Over 100 water crossings were completed, mostly shallow with the deepest up to the bottom of the doors.
I have seen amazing gorges, done walks that you must be mad to do at my age when rock and boulder hopping are required to get to a gorge in extreme heat. I have swum in many waterholes and a dark as tunnel complete with freshwater crocs – note these are not dangerous species and they do not see you as dinner.
The main offroad tracks and roads I did this trip include Strzelecki Track, Oodnadatta Track, Birdsville Track, Chambers Pillar, Sandover Highway, Gibb River Road, Tanami Road, parts of the Binns Track, Gregory National Park, Bungle Bungles, etc.
Before this trip, I have already travelled extensively around Australia over many years including doing the Big Lap right around the country on sealed roads as close to the coast as possible. Remember we lived here for around 12 years full time and 5 years part time. This is actually my 3rd adventure in Australia on my own. In 2018 I completed the remaining parts of the big lap, went to Darwin, Devils Marbles, Dinosaur Trail and Cape York. In 2019 I did Lightning Ridge, Broken Hill, Flinders Ranges, Strzelecki Track. This trip was shortened due to flooding.
In 2005, Chris and I had our first desert adventure when we did the Oonadatta Track and Flinders Ranges. In 2017, we hired a campervan in Darwin along with friends and 2 months later ended up in Melbourne via the coast.
I avoided any Covid hotspots with the closest on the Tamani track when I went past about a kilometre away to the Gold Mine that had cases at that time although they did not know it at the time. The roads to the mine were closed so there was no way I could get close, even if I tried.
Would I do it again, this time next year Covid willing. I have a half-baked idea of what I want to do next year and Chris wants to do part of it when we go to Tasmania and Melbourne, then part on my own or if anyone wants to join me in their own vehicle, you are welcome, just let me know in plenty if time as there are a lot of requirements that you have to meet to do this trip safely in remote desert areas.
I apologize for typos on my posts but most were done on my phone. My laptop was not turned on for 2 months at one stage. A couple of my sayings - "I never get lost, I am exploring Where to next, there is no finish, let the adventures continue."
Watch this space, there are a couple of new adventures being planned for the next 12 months right now, Covid willing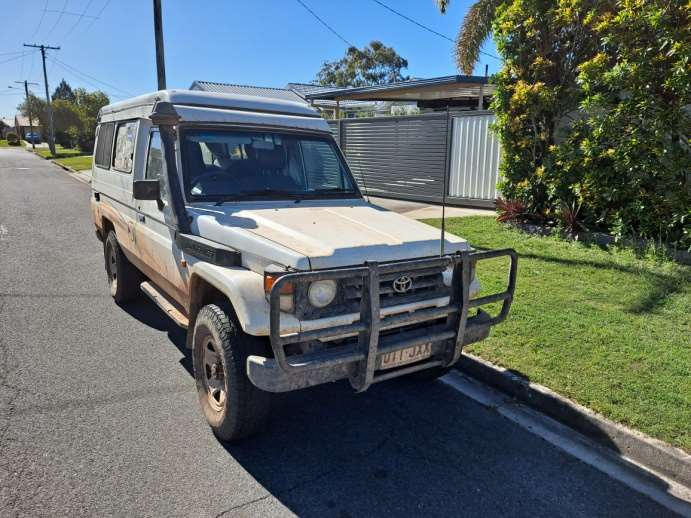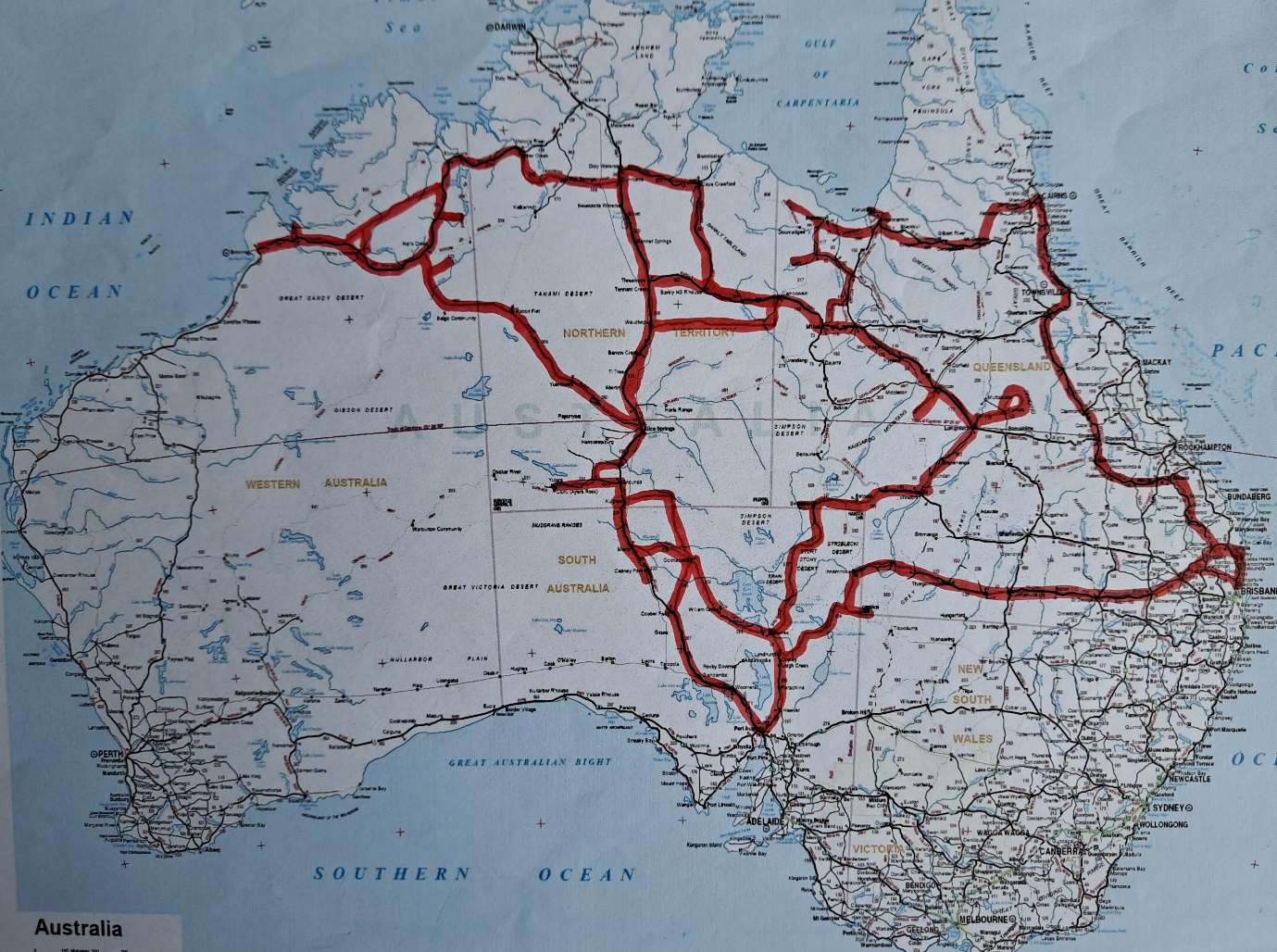 back to top