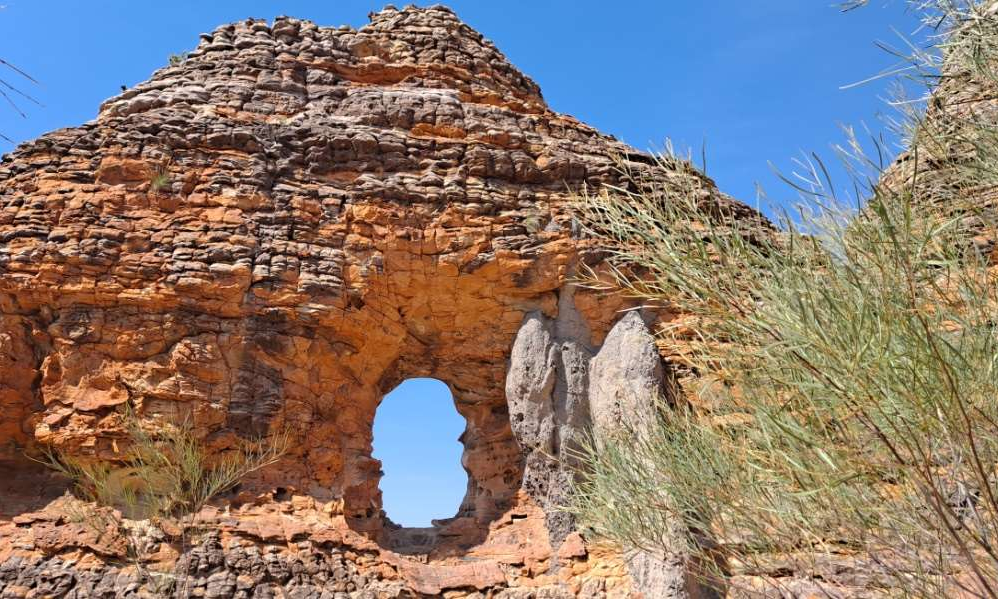 Australian Outback Adventure - Part Two
June 1st
My last post, for a day or so, waiting at the Camooweal Roadhouse for diesel to arrive. They have run out and the tanker is expected in 2 hours time, all part of the adventure. I do have enough fuel for where I am going on the Sandover Highway but no safety margin so I need this fuel and I did fill up at Mt Isa. If I change my route, no problem.
Time for a nana nap while I wait along with a heap of other travellers.
Sandover Highway, a very remote 4x4 track in the Northern Territory
Sandover Highway is one of the most remote roads in the Northern Territory. This outback unsealed track runs from the Plenty Highway north of Alice Springs in a north east direction to the Barkly Highway just short of the Queensland Border. Almost six hundred kilometres of sand hills and corrugations. It's one of the Australia's best 4WD tracks.
The road is 561 km (349 mi) long. Due its unique location and passing through remote areas, it is important when driving in these conditions to be prepared. The highway is a wellformed track with common bulldust hazards and black-soil plains that becomes a quagmire after rain. Although the first part of track can be negotiated by conventional vehicles, use of a four-wheel drive vehicle is recommended after Ammaroo. For most of its distance the Sandover Highway crosses the traditional lands of the Alyawarra people. The Sandover Highway is already a popular route for 'grey nomads', driving their caravans from Alice Springs to Mount Isa.
June 3rd 
Another couple of days of outback driving with plenty of dust and corrugations but surprisingly no flies for most of it.
I have now done 2/3rds of the Sandover Highway. Saw one car the first day, one truck the 2nd day in 600km, busy as not. I cut the highway short to save an extra 300km of driving now that I am not doing the Tamani Track.
The biggest impact on me with the Sandover is the number of wrecked cars and more especially tyres. Look at one of my photos carefully, not only the tyre has gone but what is left of the wheel is still on the car, they had kept on driving with a flat tyre until they could not drive any more.
That is why I have new tyres, 2 spare wheels, 2 jacks, a tyre repair kit and spare tubes plus a compressor.
Yesterday was a bit frustrating as I tried the first 2 camps I came across and both were full. Then it was back to the old standby, a rest area which is nestled in between the main highway and railway, there was be noise from both directions, the loudest being the Ghan Train at 2am, then a freight train at 4am which I heard coming from afar.
One camp was at the rock formations called The Devils Marbles.
Off to Daly Waters today. I am currently at Tennant Creek catching up on internet stuff.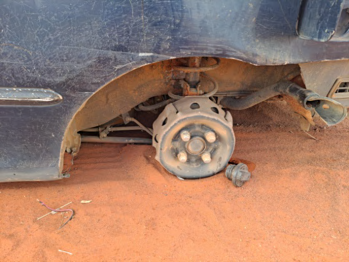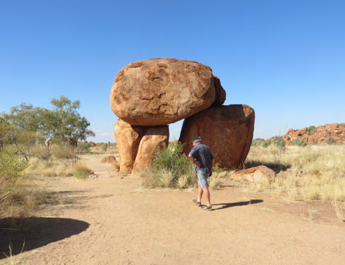 Graham at Devils Marbles 2018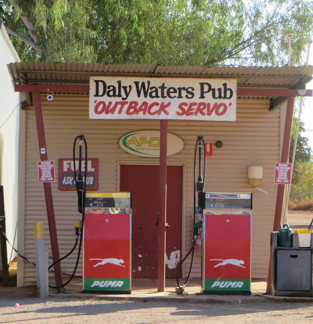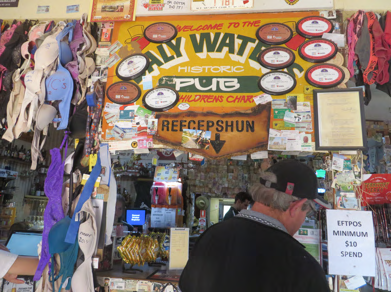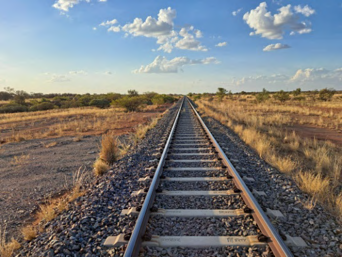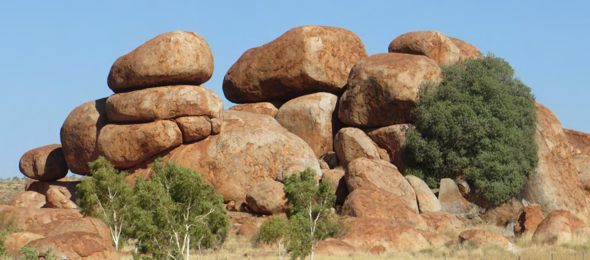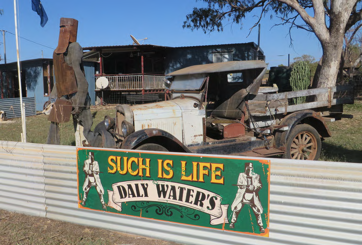 June 4th
Slow day with only around 250km travelled, I could not be bothered travelling further after 3 big day's driving.
I only got to Top Springs via a mainly dirt road, nothing of significance to report other than a free laundry at the camp and slow internet, hence no photos.
Off doing a recce tomorrow with some 4wd tracks to see if they are worthwhile spending time there in a couple of weeks when I come basically the same way to get to Darwin after the next part of my adventure. Hopefully I will be at Timber Creek tomorrow night.
June 5th
Now at Kununurra. An easy day with only 230km on sealed roads. A quick visit, again to the Gregory Tree, then onto my campground for 2 nights. I had to book this place as well as Tue and Wed nights a week ago.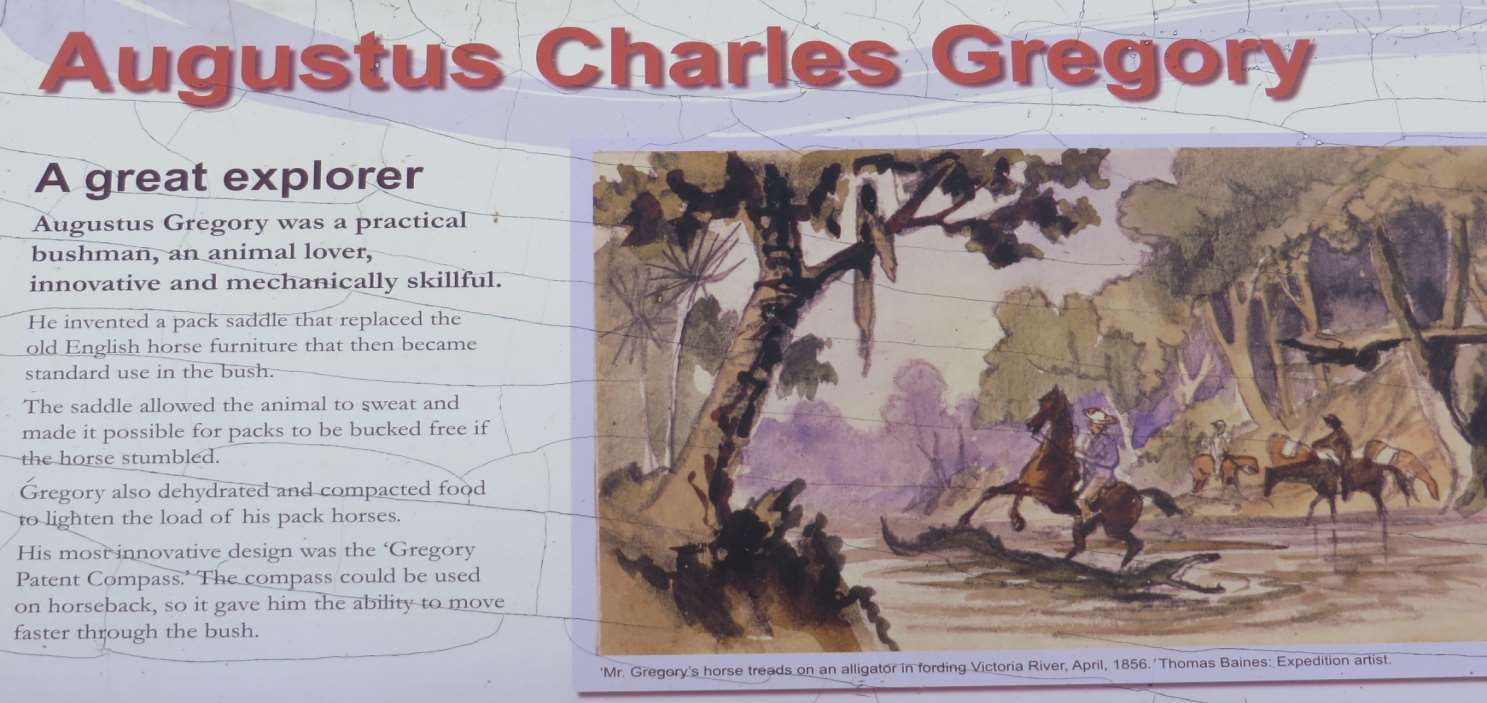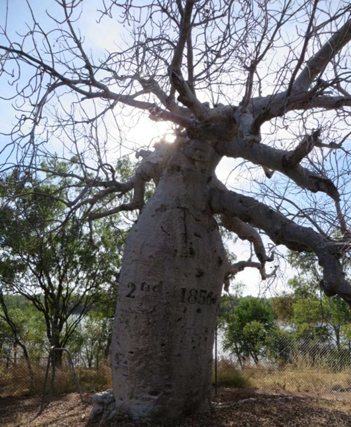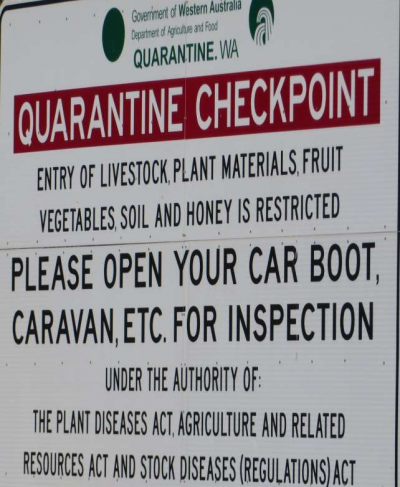 Getting into Western Australia was more than the usual drama with Covid. The other day it took me 45 mins online to get a Covid pass to enter the state. At the border was a cop who gave me the 3rd degree interrogation, scanned my pass, photographed me and my drivers license then sent me to the agriculture people. You are not allowed any fresh fruit or vegetables which I already knew so he only nabbed some Brussel Sprouts which I am not too keen on anyway, no lose.
There will be a big supermarket shop before I leave on Tuesday.
Tomorrow first thing is to find and fit a new front shock absorber to my Troopy. It had after market ones fitted around 50,000km and one has died. Pity but I never asked for the perfectly good shocks to be changed when I was getting the rear suspension repaired. To cut a long story short, they stuffed up big time on the job and 7 or 8 years later, I still owe them around $700 which they never chased me for because they realised in the end that they had stuffed up a simple job my simply not listening to me.
The reason why my shock has gone is because of yesterday's track and I will be surprised if that is the only damage.
Otherwise, tomorrow is a R and R day with a few minor chores like dealing with dust which is everywhere in my Troopy.
On Tuesday I start the Gibb River Road which will take around a week or so Kununurra is a town in far northern Western Australia located at the eastern extremity of the Kimberley approximately 45 kilometers (28 mi) from the border with the Northern Territory.
Kununurra is a town in far northern Western Australia located at the eastern extremity of the Kimberley approximately 45 kilometers (28 mi) from the border with the Northern Territory. Kununurra was initiated to service the Ord River Irrigation Scheme.
Kununurra is the largest town in Western Australia north of Broome, with the closest town being Wyndham, 100 kilometers (62 mi) away. Kununurra is 3,040 kilometers (1,889 mi) from Perth via the Great Northern Highway.
The town is situated in among the scenic hills and ranges of the far north-east Kimberley Region, having an abundance of fresh water, conserved by the Ord River Diversion dam and the main Ord River Dam.
The tropical agriculture crops are grown in the Ord River Irrigation Area (ORIA) have changed over the years. Tourism and mining have also become important to the local economy.
Key farm activities include the growing of melons, mangoes and until recently, sugar cane. Farmers are now turning to a more lucrative (though longer-term) crop of Indian sandalwood. [3] Other crops that have been grown in the Ord are cotton, safflower and rice, which is being trialed once again, having been the first crop planted on the Pilot Farm in 1960. The town has a melon picking season, which attracts migratory farmworkers to the area. There is also a thriving tourism industry with most tourist operators capitalising on the scenery of the Ord River, Lake Argyle, Diversion Dam and other local locations, including the relatively nearby Bungle Bungle Range.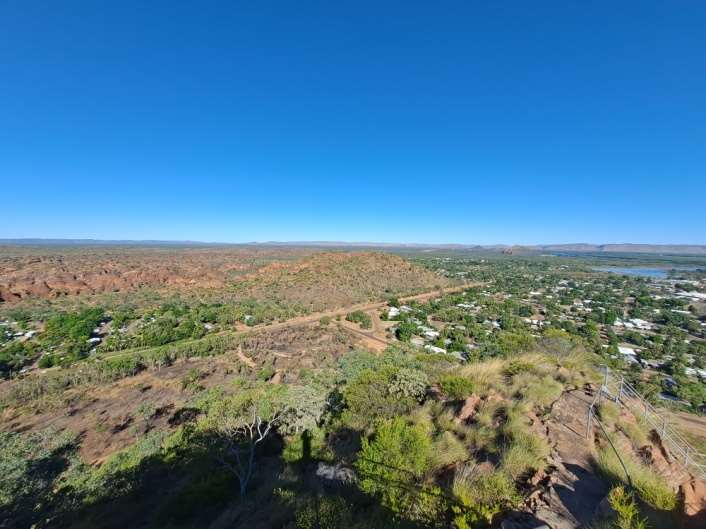 June 7th
Tight Nuts!!!
Now, this is not what you are thinking when you first read it. The tight nuts are the wheel nuts on my Troopy, not mine. At the service in Mt Isa, they did them up so tight that I cannot undo them, even with a half meter bar and jumping on it. So much for having 2 spare wheels, 2 jacks and 2 wheel braces, etc that I cannot use. This could be a matter of life and death in some places I go as I explained to the manager at 4wd Mt Isa today.
So today I was going to my nuts loosened and new front shock absorbers. I packed up early, left camp to find the town was deserted. Today is the Western Australia Day so all the traffic on the streets were other confused travelers. One couple got up at 6am, traveled for 2 hours to find everything shut.
Anyway a good walk this morning at the Mini Bungle Bungles, a bit of off roading to see a pool, butterflies and cave with bats, plus a couple of other waterholes that were quite spectacular. A long shallow river crossing was also successfully completed.
Then a supermarket run, Coles looked like a tornado had been through, empty shelves everywhere so off to IGA to finish the shop.
Assuming I can get my mechanical issues sorted, I am starting the Gibb River Road tomorrow. Once again the net will be patchy as I have given myself a week on the road but there is net in places.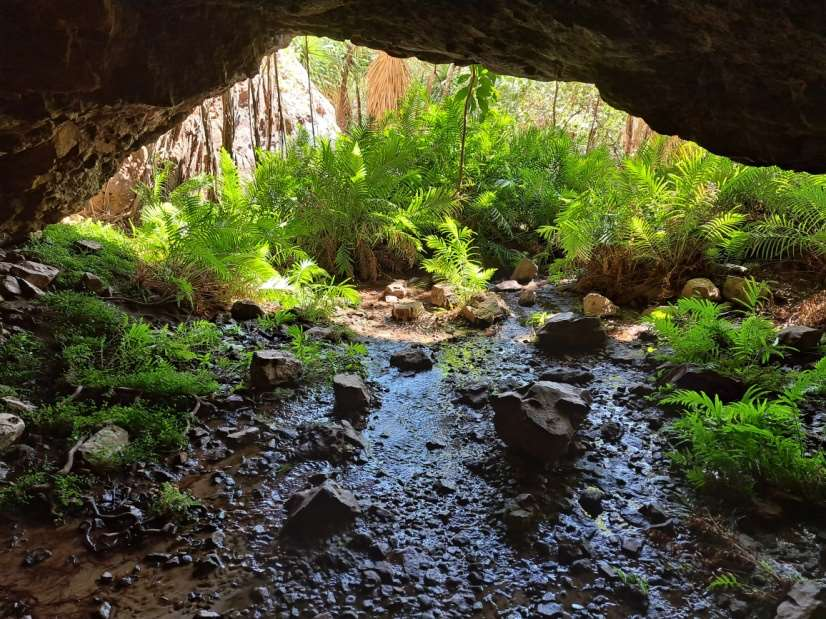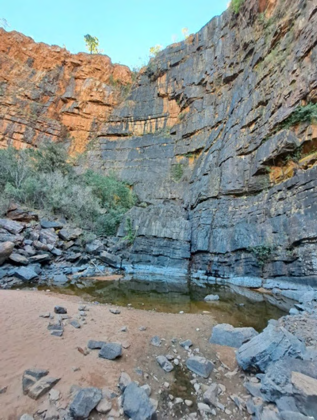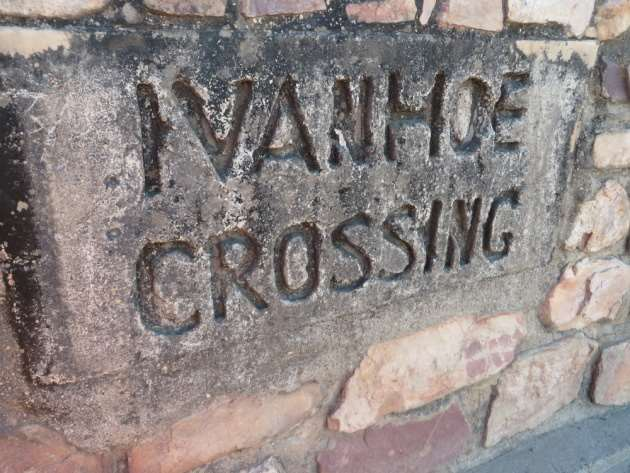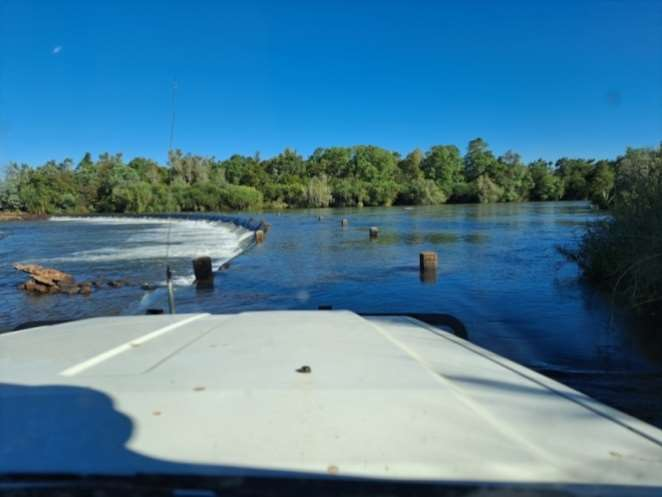 June 8th
Shocking News Today!!!!
Well today is the day that I had to get the Troopy fixed. A tyre place kindly loosened my nuts, wheel nuts in case you have forgotten. Then onto getting the dead shock absorber replaced. The first workshop said 8 weeks before they could do it, the 2nd said sometime on July. I managed to get a place that said Thursday but with camp bookings stretching into next month already made and paid for on an intermittent basis, even that was not acceptable so black hands again for me.
50 minutes and I had changed the offending shock absorber on the side of the road and was on my way again. The other side should also be changed and I expect that to take quite a bit less time when I get around to it now I know what to expect.
Now I am at the start of the Gibb River road at the El Questro resort for 2 nights. Very nice but extremely busy. I have had a swim in the local waterhole, that is hopefully free of crocs. I have been warned that only swim where I am told is safe.
Tomorrow will be spent exploring the area walking and 4WDing, then Thursday onto the real rough stuff for around 600km over the next week or so.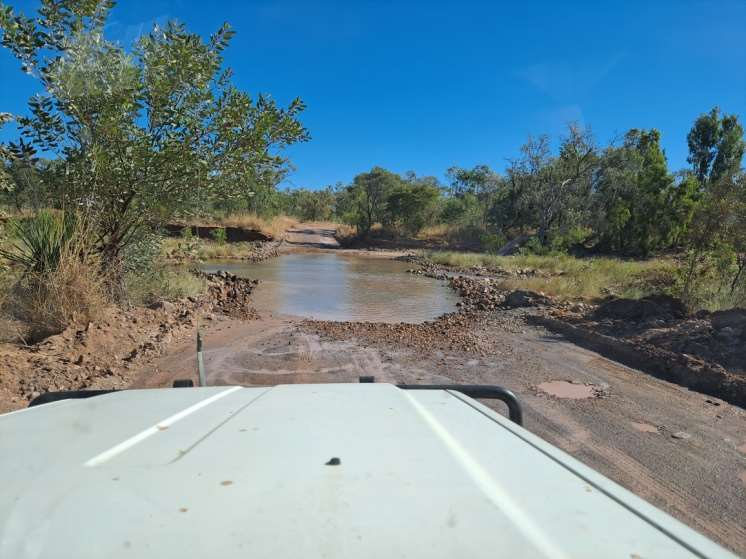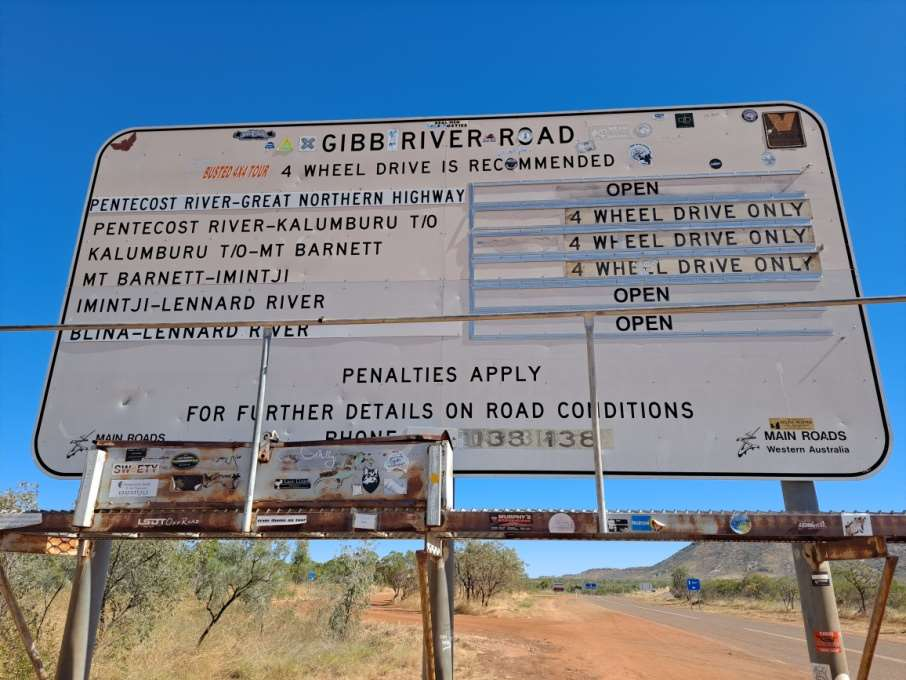 June 10th
Water Day Today
First off was a short drive to Zebedde hot spings, a series of pools fed by a hot spring at around 32 degrees. Although it was a bit difficult getting into shallow rocky pools, a very cleansing morning was spent have a good soak in various pools.
The afternoon activity was a trip to Emma Gorge, a very spectacular gorge and waterhole was the end result of a 1.6km walk of which most was rock and them boulder hopping, very hard and it took an hour each way. Once again, I was soaked but this time it was sweat, yuk.
A so-called 4WD track was driven to a lookout, 2WD all the way with another water crossing. There are also 2 half-reasonable water crossings on the way into El Questro, very rocky, a reasonable length and not too deep, about half a meter.
Tomorrow I am off on the Gibb River Road which will be dusty as and full of corrugations with quite a bit if traffic and even more water crossings. There will be a lot of stops, usually at spectacular gorge.
I have allocated 6 days for the road with intermittent internet at best so I will post when I can.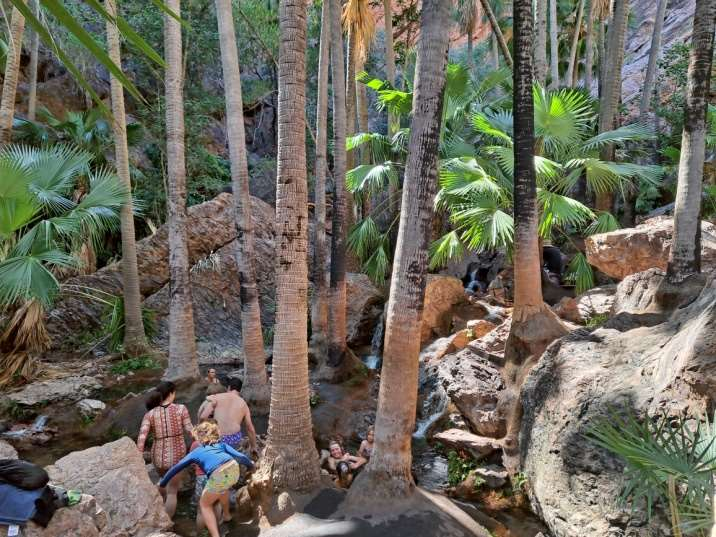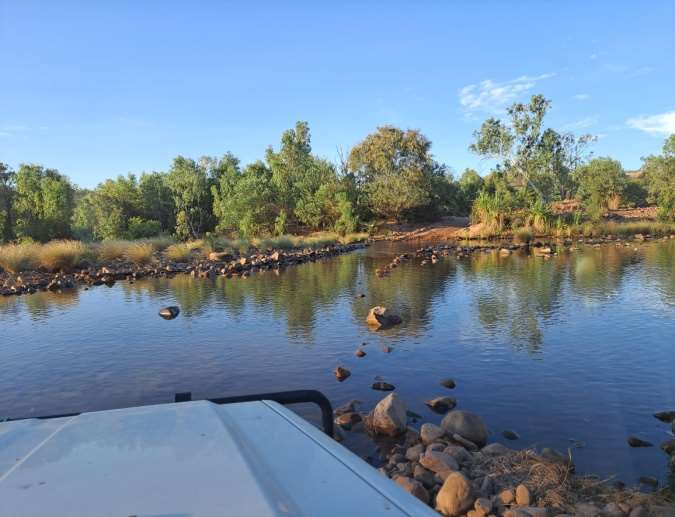 June 11th
Well I started the Gibb River Rd for real today traveling around 150km, a small day for me arriving at Ellenbrae Station for the night around lunchtime which solved the problem, what am I having for lunch. A toasted sandwich and their specialty, a scone, yummy.
They have a tyre repair shop there and I asked about them changing the 2nd shock absorber, no can do but you can park on the concrete outside our workshop and use our tools, an offer like that, who can refuse and the 2nd one was done by me with a donation to the Flying Doctor as the charge.
Of course, that left me hot and sweaty so a quick dip at the swimming hole. I was warned don't step on a freshwater croc as that is the only time that they will harm you. No dangerous saltwater crocs there (I hope), I survived along with others.
The drive was as expected, corrugated but not as bad as it could have been. There were a couple of shallow river crossings about ½ meter deep so no dramas there.
I came across a Hilux with road tyres who had a puncture around 50km in. The road tyres are just too fragile for these roads. Also there is a VW Tuourag around camp running on a space-saver tyre!!!! Wonder how far they will get unless they were waiting for a new tyre for their vehicle to arrive which could take a few days/weeks. No offroad tyres for them as well. This and other Australian dirt roads are very hard on tyres. All nice to have the luxury vehicle but you can get Troopy tyres and parts anywhere as they are so common. I use All-Terrain Light Truck tyres and to date have not had a problem in years. I also replace them at ⅔ worn. Saves a lot of hassle and drama.
The next 5 days I will be doing the Gibb River Rd mainly as explained yesterday without net and sorry no pictures today as the net here is too slow, it is a bonus having it today.
The road is a former cattle route that stretches in an east-west direction almost 660 kilometers (410 mi) through the Kimberley between the towns of Derby and the Kununurra and Wyndham junction of the Great Northern Highway.[1] Like its namesake, which does not actually cross the road but runs nearby at 16°06.108′S 126°31.075′E,[2] it is named after geologist and explorer Andrew Gibb Maitland. The Gibb River Road is one of the two major roads which dissect the Kimberley region— the other being the extreme northern section of Great Northern Highway which runs further to the south.
From 1948, an Air Beef Scheme operated between Glenroy Station and Wyndham. An abattoir, freezing works, and airstrip were built on the station and the meat airfreighted twice a day to the coast before being shipped to the southern cities. To develop the beef industry further, a Commonwealth Government grant to build a road was given in 1949 and the following year construction of a road to Derby commenced, one of a number of roads built as part of the so-called "Beef Roads Scheme". This southern section, which is sometimes referred to as the Derby-Gibb River Road, was completed in 1956 at a cost of £713,677 and was used for trucking live cattle.[5]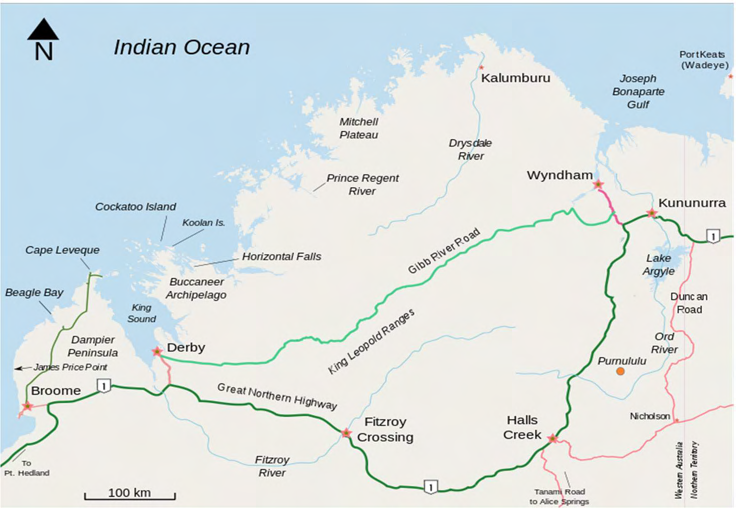 No net day
I left Ellenbrae station mid morning for a 3 hour drive to Manning Gorge near Mt Bartlett roadhouse. The road was in OK condition with patches of corrugations. I am early in the season so the road has not deteriorated, yet.
About 20km from my destination I can across 3 people stopped with a camper trailer which has a shredded tyre. It was a rental trailer and they were struggling to jack it up like they had jacked it up as far as they could and were trying to dig a hole under the tyre with a tiny spade in rocky ground.
They had already had practice as this was their 3rd puncture in 300km!!! Anyway, I used by small trolly jack and had the tyre replaced in double-quick time. They then had a master alarm on their vehicle which turned out to be a dodgy switch on a rear door, so much for modern computer-run cars.
I checked into camp and went down to the waterhole for a swim. Once again an afternoon disappeared quickly soaking, swimming and chatting to other travelers.
On the way back to my camp, I saw a couple who I had seen a couple of times over the last few days trying to fix the tailgate on their ute. Once again, I did some working out where the problem was and fixed it - the dust strikes again.
12th June
Mornington Wilderness Park
Up at 7am to do the walk into Manning Gorge. First up was to swim the waterhole to the start of the track, them an hours walk (2.5km) over varied terrain to get to the Gorge and falls, once again very spectacular.
Arriving back at camp after my second swim for the day, it was time to leave and carry on to Galvins Gorge which is only 1km from the carpark and mostly an easy walk. Next up was Adcock Gorge which is accessed via an very rough road and short rough walk. Once again, both are spectacular Gorges.
Then it was on the road again to Mornington Wilderness Park which is 83km from the main road and fully booked for the next 2+ months, I am here for 2 nights. The drive in was easy with the road like a highway for about 65km, then it became a typical outback road with heaps of shallow water crossings. Once again a great place to camp and a beer in the bar was very welcome. Sorry no pictures today.
14th June
A sleeping, some housekeeping and minor repairs, Facebook post and email plus a call to Chris over dodgy expensive satellite WiFi and before I knew it, the time was 11am.
Next was a 1 hour drive to Dimond Gorge for a swim and lunch, then onto 2 other swimming holes, each spectacular but different.
Mornington Wilderness Park is huge and they are big into protecting wildlife. They also only allow a maximum of 60 campers and are booked out for the next 2 months. I was lucky to get a spot and I suspect that I was camper 61 in the camp. A very good camp let down by the restaurant and bar food. Otherwise no complaints.
Dinner was Nachos at the bar as the restaurant never opened today. All in all a quiet day. I am moving onto Silent Grove, my next camp close to Bell Gorge. After that will be Windjana and Derby on Wednesday, the end of the Gibb River Rd.
Saw a snake in the dark on the way to the bar and ran over one on the way out of the camp, came around a corner, and could not miss it. I have got to be careful but do have a snakebite kit in my walking backpack along with a heap of other stuff including my Zoleo satellite tracker.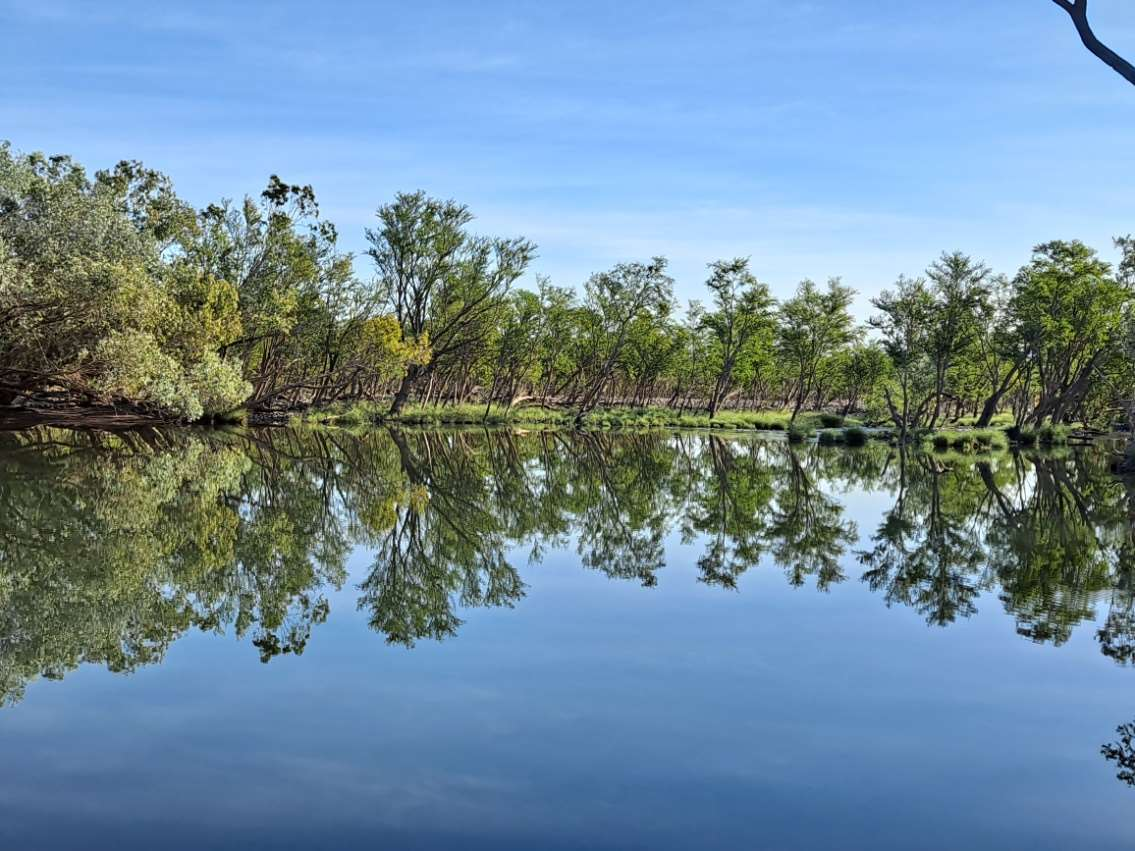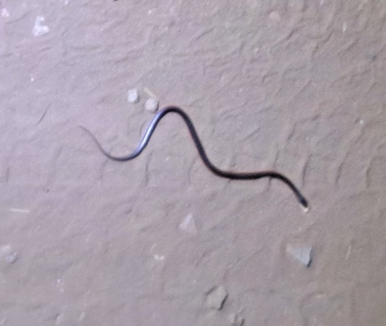 15th June
Near the end of Gibb River Road
Now at Silent valley campground close to Bell Gorge. Another spectacular Gorge, waterhole and water falls which is once again accessed by climbing over rocks and boulders which I am almost over. Not much else to report other than Optus phone reception at the Imintji store about 8km down the main road from our turnoff. I know which direction everyone is travelling, I'd their vehicle is dirty, they are heading towards Derby, the same direction as me. Clean vehicles are going the opposite direction.
Off to Windjana today for the last night on the Gibb.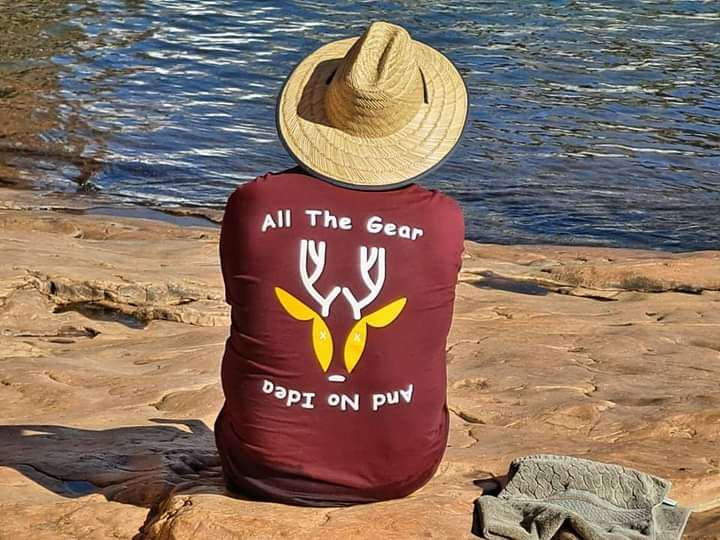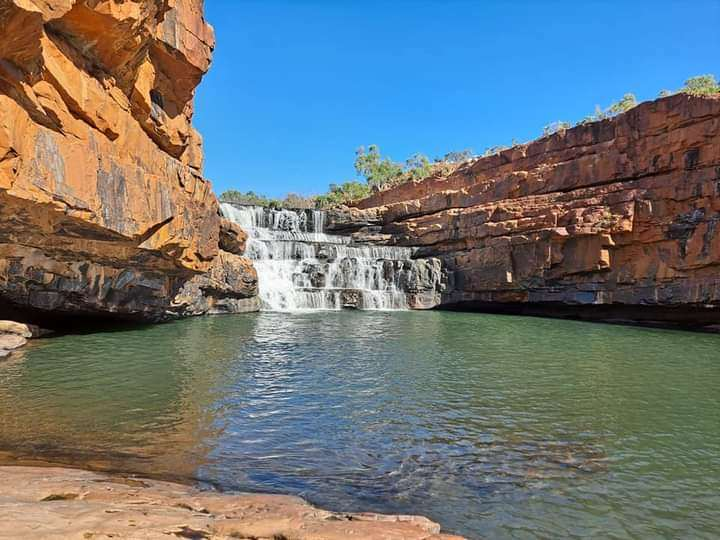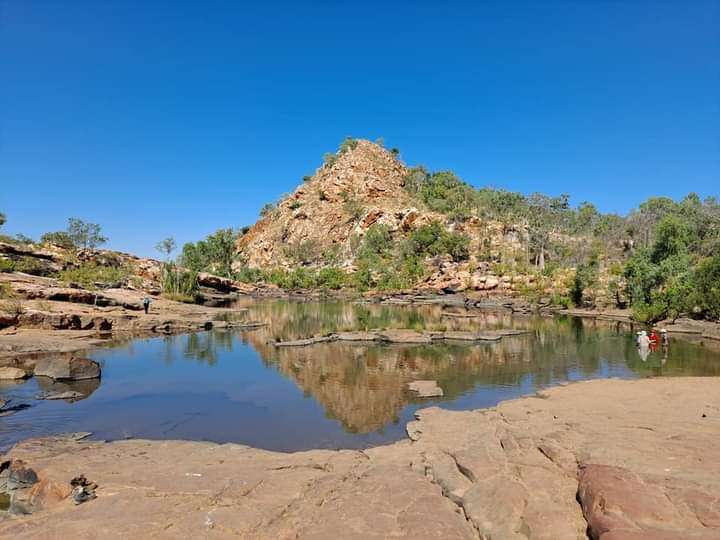 16th June
The best and worst of the Gibb River Road.
Let's start with the worst, the roads are badly corrugated now, the caravans are slow, like 40kph and shaking themselves to bits. They need to increase their speed to 60+ girls a much smoother ride.
Now for the best, Tunnel Creek, look it up, I don't have the net writing this. There is this 1km long cave like a tunnel where one had to walk, wade and swim. Awesome place.
I am camped at Windjana Gorge tonight. A 1.5km walk takes you into the Gorge, no rock hopping just soft sand and I saw 4 Fresh Water Crocodiles. Once again 10 out of 10. No swimming though, and no more swims on this road this trip.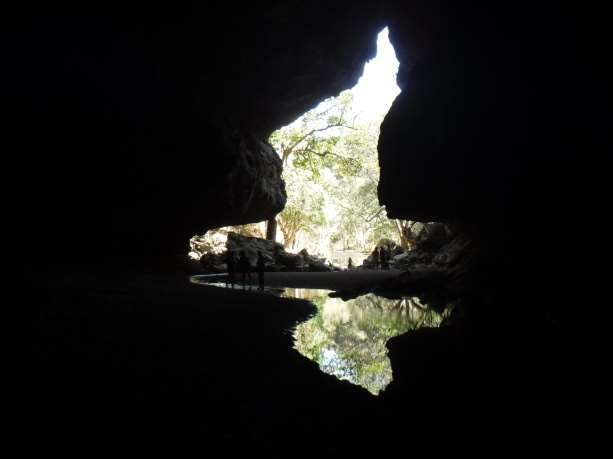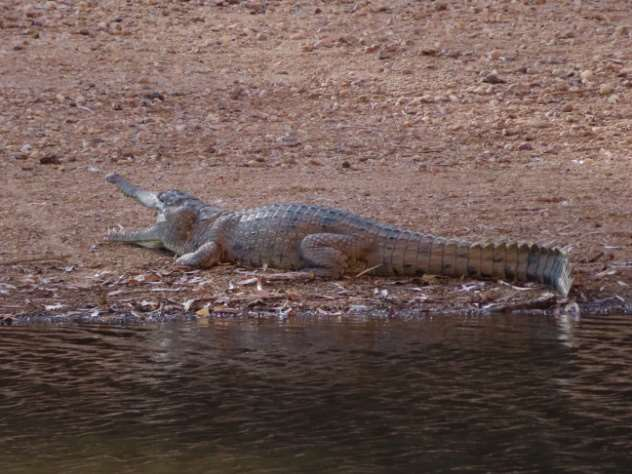 Now at the Derby.​​​​​​
17th June
Broken stuff - Gibb River Road!
One very dirty Toyota Troopy. Bugger will take some cleaning when you get back to Brisbane!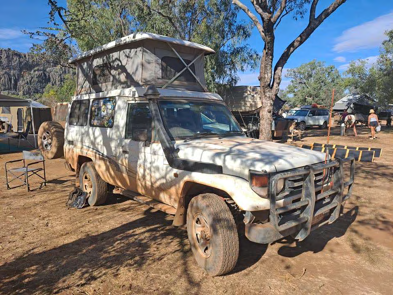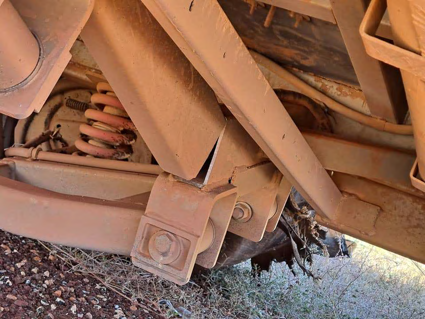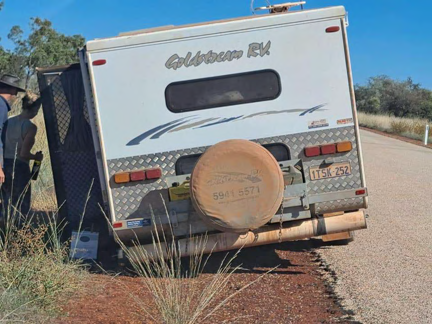 18th June
What is it with campers in Australia? The first to leave camp 2 days in a row were at around 430am in the morning. It gets light around 530am when the exodus starts. By 8am, most who are leaving are gone, except for me if I have a short driving day, that is when I get up. I have seen people at their destination mid morning trying to check in to camp just as I am leaving. They are on holiday and supposed to be taking it easy!!!! Short drive, 2 ½ hours to the RAAF Boab Quarry . Awesome free camp by the disused quarry which is now filled with water. A nice walk with a bit of rock hopping around the quarry with caves to explore. Unfortunately, the weather is not as hot as usual, overcast with a cold wind so swimming is not on rhe agenda for today.
19th June
Drive to Geikie Gorge where I did a couple of the walks, then a boat trip down the river. Saw at least 12 fresh water crocs plus some stunning rock formations. The river rises by a huge amount each wet season, in fact the info centre at the Gorge was totally underwater 6 months ago.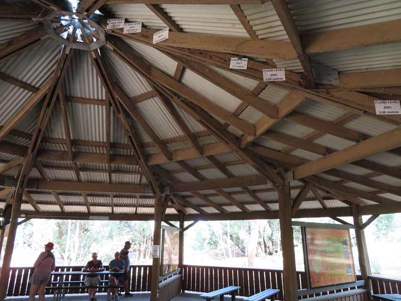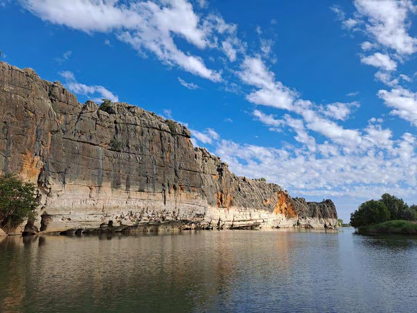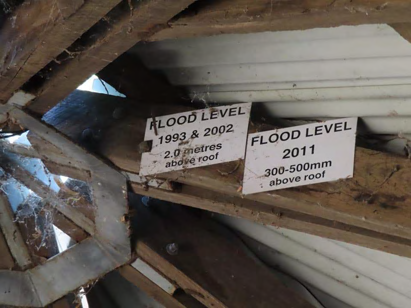 Off to Wolfe Creek Crater tomorrow.
21st June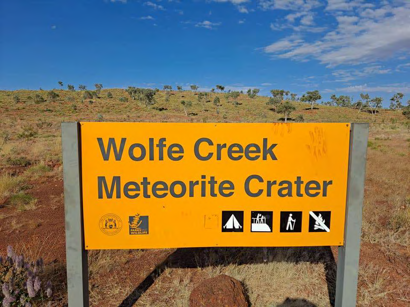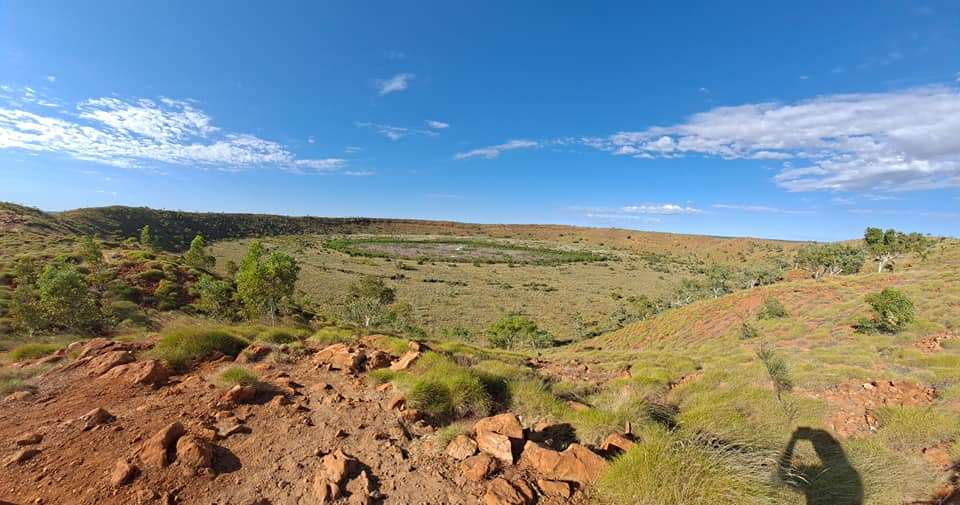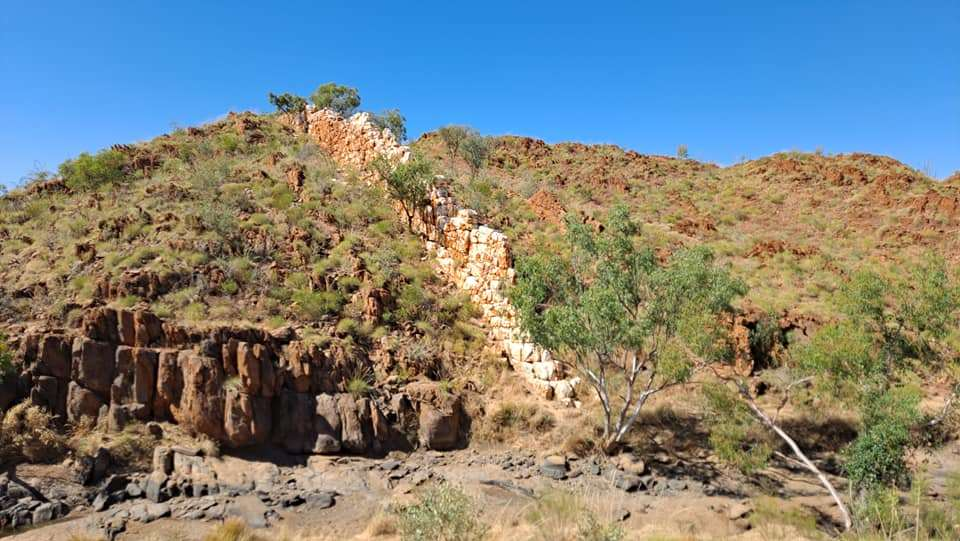 China Wall, Halls Creek
This place acquired its English name because it is somewhat reminiscent of the Great Wall of China. It is known as Burraluba in the Jaru language and as Mulugunjiny in Kija.
China Wall is a natural vein of sub-vertical white quartz rising up to 6 metres above the surrounding country in places. This striking formation transects the country for many kilometres, rising high out of the ground and then disappearing back into the earth again. Scientists believe the wall was formed when the rock surrounding the much harder and resistant quartz was weathered and eroded away. Aboriginal people have a different account of how this formation came about.
22nd June
Last night at a free camp just outside the Bungle Bungles, the entertainment was supplied by a bunch of 5 backpackers in two vehicles. One guy had lost the keys to his car an old Camry and could not start it. Quite a few guys including me had a go at getting it going but we all gave up. Eventually they unloaded the Camry, left some good stuff behind, put the rest into the already overloaded 4wd and took off, left the old car there unlocked but with no keys abandoned. It was more than the car is worth to get it repaired in a remote location and they had a tight timeframe. There will be more entertainment the future when someone will torch the Camry. I know where there is a good battery, tyres, etc if anyone wants them. I got a new tarp and sunnies.
Bungle Bungles
What a great place, I flew over the Bungle Bungles in 2017 in a helicopter with Graham and always wanted to see them from the ground. Pity about the access roads which are long and rough as but the Bungles are just spectacular and unusual. I did a walk this morning about 10km long, OK to start but the temperature rapidly climbed to over 30 degrees. Lucky I took extra water and I ended up drinking near 2.5L on the walk. Now camped and taking it easy this afternoon with another couple of easier and I hope less strenuous walks tomorrow morning before heading back to Halls Creek in the afternoon to prepare for the Tamani Track.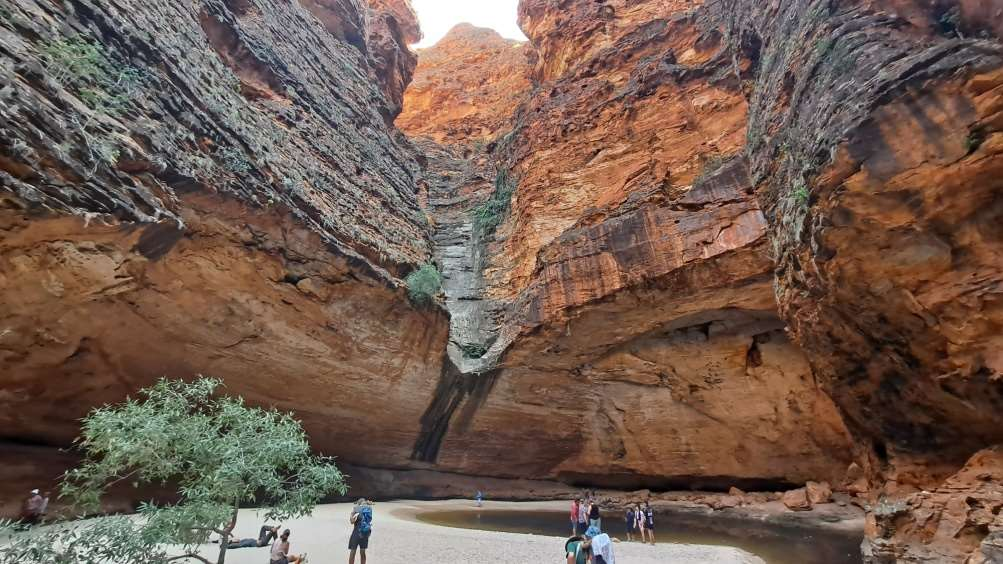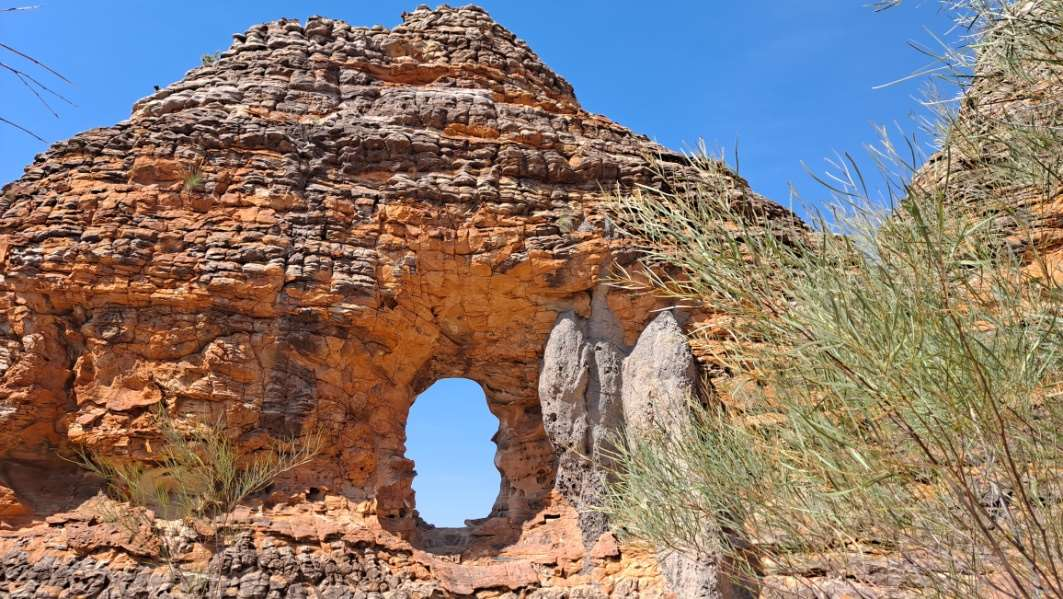 The world heritage listed Bungle Bungle Range is located within Purnululu National Park in the Kimberley region of Western Australia. ... Purnululu, meaning ' ...
Twenty million years of weathering have produced the eroded sandstone towers and banded beehive structures of the Bungle Bungle Range. Dark bands, formed by cyanobacteria, winding horizontally around the domes, contrast with the lighter orange sandstone.
23rd June
Bungle Bungles and abandoned cars.
Another awesome walk at the Bungle Bungles, this time shorter and with overcast skies, cooler so easier on the body. This area is so different to anywhere else in the world and a must-do for all travelers to Western Australia with the proviso that you need to be moderately fit and agile to see the best. There is a lot of uneven surfaces and at times some rock hopping. You do not need to do all that I did yesterday, just 3km or slightly more and today was around 4km of easier walking.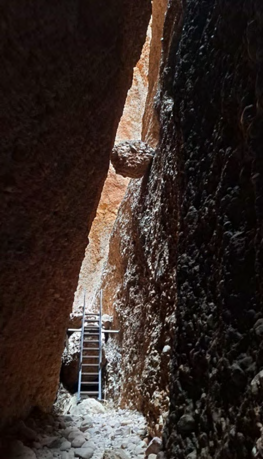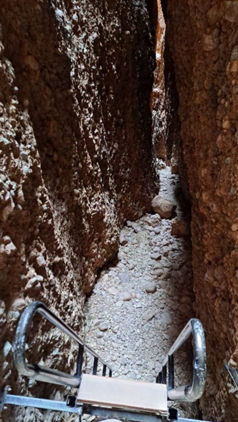 The road in to the Bungles is let's say rough as, not the roughest road that I have been on but up there in places. I passed 3 vehicles coming out today doing 20 to 40kph; my ideal speed was 40 to 60kph when the bumps and corrugations are not so bad. Luckily there was not much dust from those that I passed.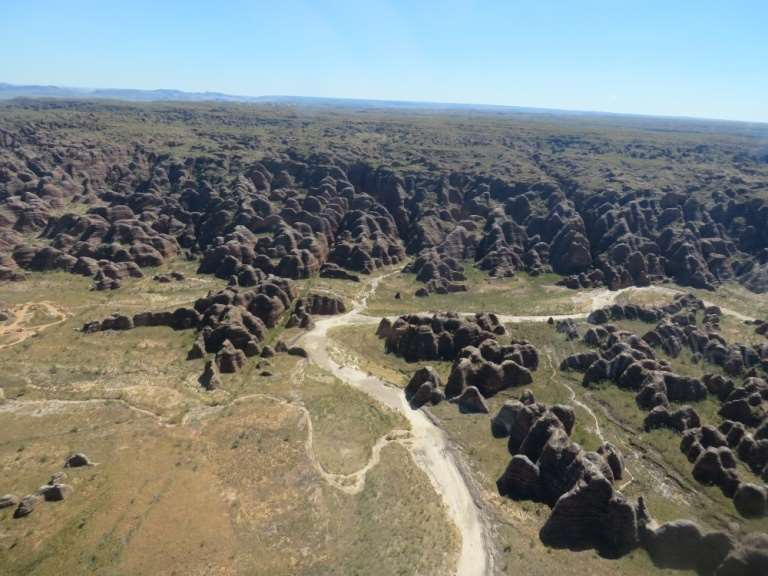 Bungle Bungle from the air with Graham 2017.
Now I went back to take a photo of the car that I saw a few days ago where the owner had lost his keys and abandoned it. When I got there, the owner had returned with keys but could not get it going. Someone had taken his good battery and left a dead one there. None of the other campers in the area were interested but I used my jumper leads and got him going. He was very relieved and happy with strict instructions, DO NOT TURN THE CAR OFF until you are at a battery place. He was last seen heading north; I went south to Halls Creek where it is shower and laundry time at a campground. Both are not always available at places where I camp and at the Bungle Bungles the camps do not have showers, water is the problem like not enough of it. Clean clothes, wet wipes and deodorant work fine when I am on my own with no showers but after 2 days of walking in reasonable temperatures where yesterday I was dripping in sweat, well let your imagination run riot. Lucky I am traveling on my own.
I am staying at a campground in Halls Creek tonight and the camp shop has everything from food, lollies, all sorts if groceries, Bluetooth speakers, perfume, air-conditioning units, air fryers, microwave, mobile phones, patio heater, toys, contents of a chemist shop, clothing, etc, etc. You name it; she probably has it in stock somewhere ready and waiting for a buyer. She probably does good business with the locals as there is not much in the way of shops in Halls Creek and the nearest little smoke town is 300km away at Derby.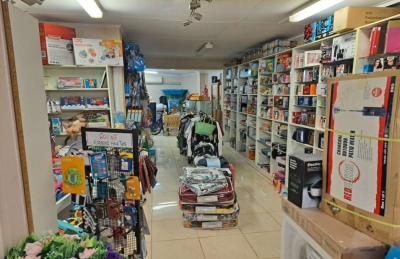 I start the Tamani Track tomorrow (Thursday). An extra fuel stop has been opened so I only have 760km between fuel stops, easy as with around 300km to 400km in reserve depending on my speed. It will take 2 days to do the track and full remote area desert precautions will be taken again. My apologies to those of you who get my location updates by email, there will be a heap of updates over the next couple of days so I can be tracked in case of trouble.
24th June
Travelling the Tamani has always been on my bucket list. As mentioned before after hearing that the road is in good condition and that there is only now 760km instead of 900km between fuel stops and as I was in the area I decided to do it even if it meant backtracking. Anyone who travels with me in the future, be warned, the published itinerary is a guide only and will change at short notice.
All went well with a busy morning preparing with topping up water and fuel, last-minute shopping for supplies, calling Chris, etc, then on the road for a couple of big days driving.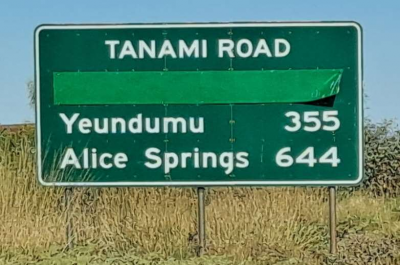 The first bit of the road I did when I visited Wolf Creek but with a difference, the đust it was so bad that I was stopping at times, just what I need at the start if a big day when I am trying to conserve fuel, 1st, 2nd and 3rd gear work. At one point I spotted the front of the cloud of dust which was moving and was about 2km long so I pressed on quickly when I could on the clear patches. When I got to near the front of the cloud, I saw it was a road train struggling with the twisty hilly terrain.
Time to get on the radio and a quick call to the driver and he assured me he would pull over and let me past at a good spot. Now visibility was still next to nothing most times and at one point I found that he had slowed for me on a short straight but by the time I got out of the dust cloud it was all over.
5 mins later, he did the same thing on a longer straight and I was past. 30 or so minutes driving in a massive dust cloud is not good for the nerves. The truck was only managing around 20kph, not good when you have a 500km day on dirt and you have only just started.
A few minutes later, another dust cloud, the language was not good, lucky I was on my own. However luckily this was 2 trucks carrying massive mining trucks. The good news is that their speed was slow as and the straights were longer so it only took a few minutes to deal with them.
It was plain sailing or driving from there, no more trucks, just one campervan to pass, smooth road and sitting at 80 to 90kph in the main. Some of the road was badly cut up and still wet after recent rain, where did that come from as I have had no rain. It did not reduce my speed as there was a clear path through the rough bits but a grader will be needed when it dries out.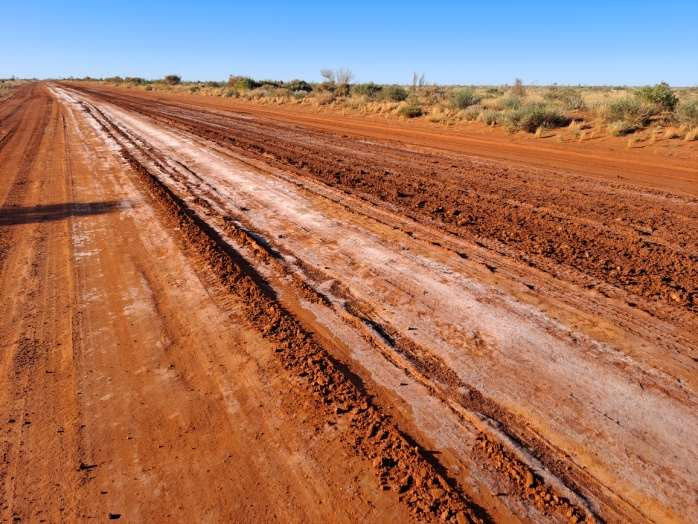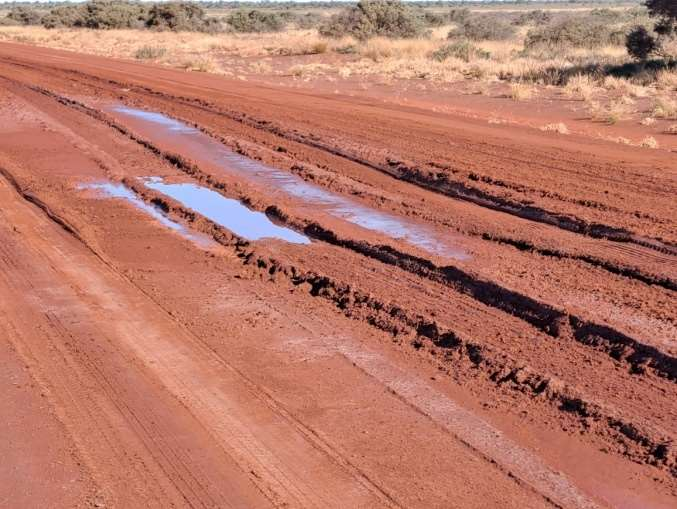 I passed several Aboriginal Communities which are closed to the public to keep Covid out, then cell phone reception at the 500km mark near a Gold Mine. Time for a quick call to Chris, then onto find a camp for the night. No camping allowed around the mine and for 10km either side of it so I camped under a Telstra microwave tower, just outside cell phone coverage.
Camping was a revelation, a couple of nights ago it was so hot, I had a fan going at night, last night it was cold getting down to 5 degrees, yuk. A shock to the system and time to find the winter woollies again as today is forecast for 20 degrees high but low teens for most of the day, such contrasts in such a short distance. Note I get the weather forecast from my Zoleo satellite communicator.
The next 500km will be easier with half of that a sealed road.
Note that I finished the Tamani today, part 2 tomorrow when I have finished it.
25th June
Tamani part 2
Well the overnight temperature was even lower than forecast as puddles of water on the road were ice in the morning, so much for a warm Northern Territory. The next stage was to the start of the sealed road which took 2 ½ hours. This last bit of dirt road is used a lot by Road Trains to the gold mine so was very corrugated but the best speed was still 80 to 90kph.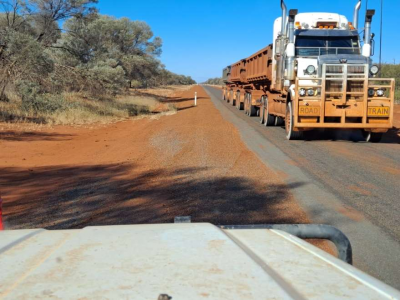 Then bliss, no more rattles from stuff in the back, no more noise from the wheels, no more dust, just a sealed road where I was doing 110kph just because I could, note that was the speed limit on that road, elsewhere in the Northern Territory is 130kph, I wish in the Troopy, not going to happen as that is around its top speed. I will now be on sealed roads for the next 4 or 5 days. For those of you who do not know my past, I raced rally cars for 27 years and love driving fast on all roads including unsealed and dirt roads, not that I get the opportunity much these days to drive fast legally and safely in NZ. I also have driven 4wds for over 20 years and used to belong to 4wd clubs in NZ and Australia doing all sorts of stupid fun stuff off-road.
Of note was the camel on the side of the road, 6 or so kamikaze birds that flew into my windscreen, why so many birds there but at 110kph, you don't have a chance to avoid them.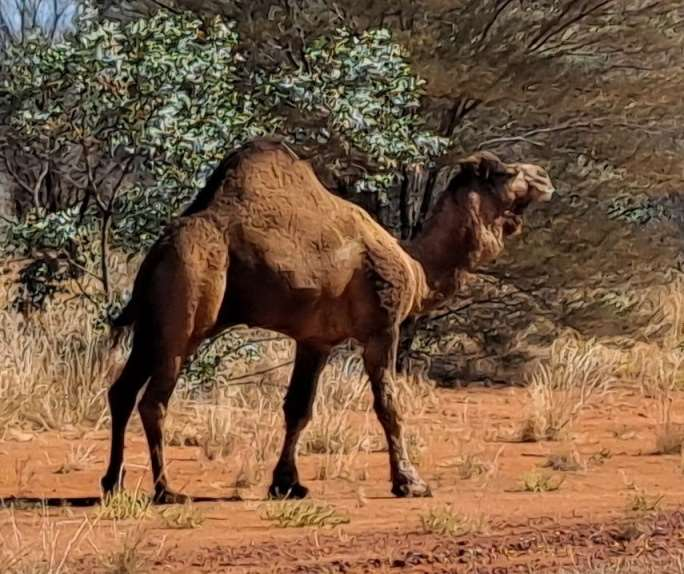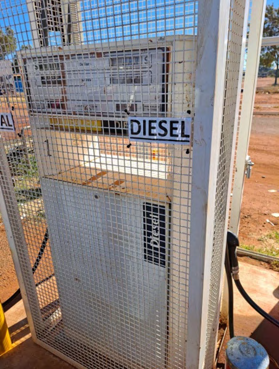 Fuel was not a problem and I could have got to Alice Springs with some to spare. I did top up one tank but at $2 a litre I only put 45L in, I will do a proper fill at $1.57 a litre at Tennant Creek saving myself around $25.
I did not go into Alice Springs as planned, I wanted a motel for the night but Alice Springs is fully booked so I headed north instead. 2 easy days of driving now and I will be at Mataranka. My final destination north is Darwin next Sunday before I head back to Brisbane.
26th June
A driving day today with not a lot to report other than the air-conditioning belt had decided to disintegrate a few days ago. The low temperatures mean I did not need the aircon until today. I had checked the belts a couple of days ago and all was good but the aircon one decided to delaminate, not just break. It was also only 3 years old. Anyway, I carry a spare one and it only takes 5 mins to replace on the Troopy. Note the alternator and water pump have 2 belts and was not affected by the aircon one.
I camped in a rest area right beside the highway so had a few road trains wake me in the night.
27th June
Max flex used to be one of my favourite sayings, well today was max flex with the announcement of a lockdown in Darwin and surrounding areas due to Covid. Well I have been there before and was looking forward to 3 nights in an apartment but whatever changes my itinerary again for the umpteenth time.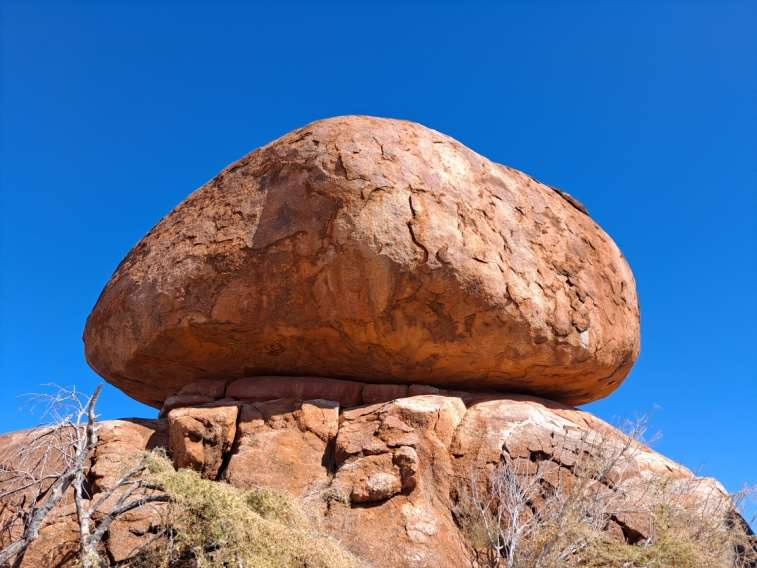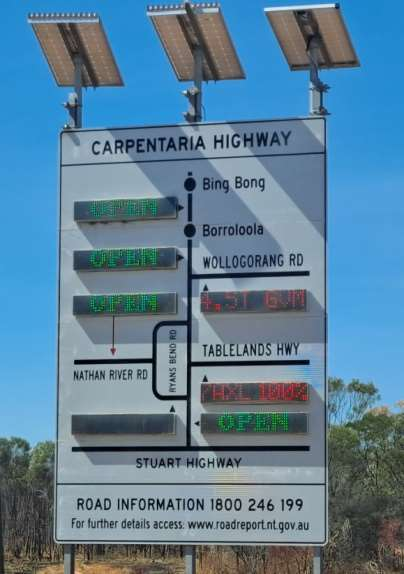 I am now heading for Queensland the shortest way which is also the way I had planned for 2 weeks time. Northern Territory will have to be next year.
Today turned out to be another big day of driving stopping at 445pm rather than 1pm. I hit the dirt and remote area again tomorrow following the coast sort of from Boroloola to Cairns with stops on the way.
I am at a camp in Cape Crawford tonight with laundry being done and a shower. Let's see what tomorrow brings. Following is the report from yesterday that I did not send due to no net.
28th June
Queensland
A day to day of driving, driving, driving, get the idea. The 5th big driving day in a row. My aim was to get to Queensland. In Australia borders close with not a lot of notice due to Covid and Covid us so unpredictable. Darwin, Palmerston and Litchfield are all locked down until next weekend. There is also talk of problems at Katherine. No way do I want to be locked down on my Troopy, hotel room, fine, just not the Troooy. Today is what I would call a touring stage in a rally, big distances, nothing much happening while driving. Google maps suggested a route that I could take which included a 220km dirt road. That interested me but Google did not know that it had rained recently and after 20km and a few mud holes, it was time to retreat and go the long way, approx 100km longer but all sealed.
When I got to the Barkly Roadhouse, there were queues of cars waiting for fuel. Due to Covid, they had shut down all pumps other than one diesel and one petrol with a limit of 50L. That amount does not go far for me when I carry 180L when full. Anyway after an enforced break of 25mins and having lunch while waiting I hit the road again. I am now in a freedom camp at Camooweal just inside the Queensland border for 2 nights, I need a break from big drives, hence a day with not so much driving tomorrow. My drive today was 8 hours. I am now trying to replan the rest of my trip. More time in Cairns, maybe Cape York again, who knows but I will be busy on the phone tomorrow trying to make bookings at popular places. School holidays add to the booking complications.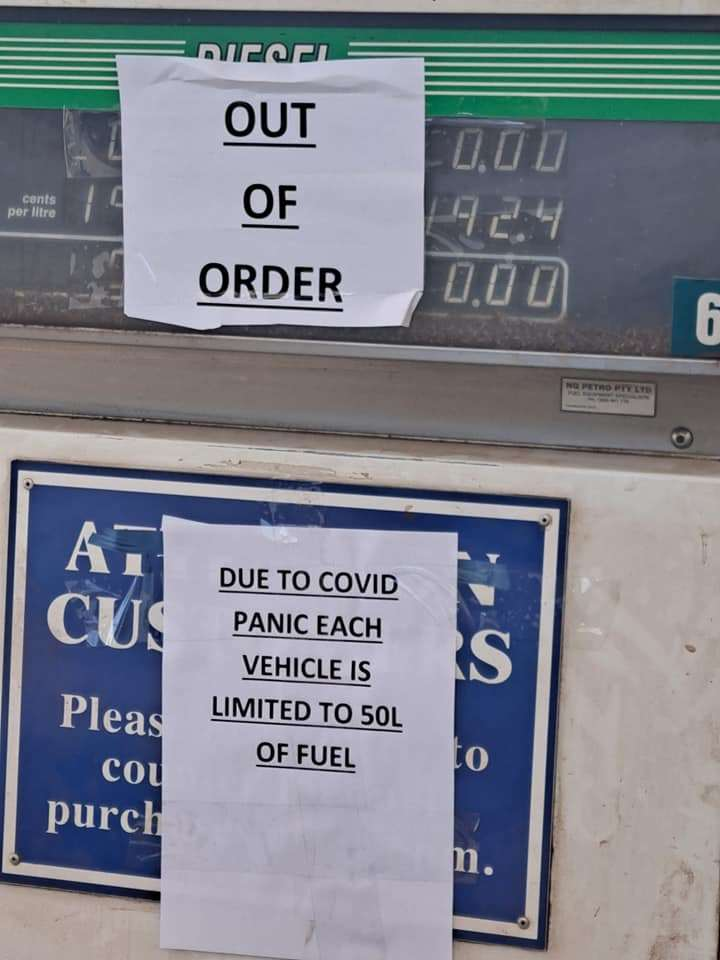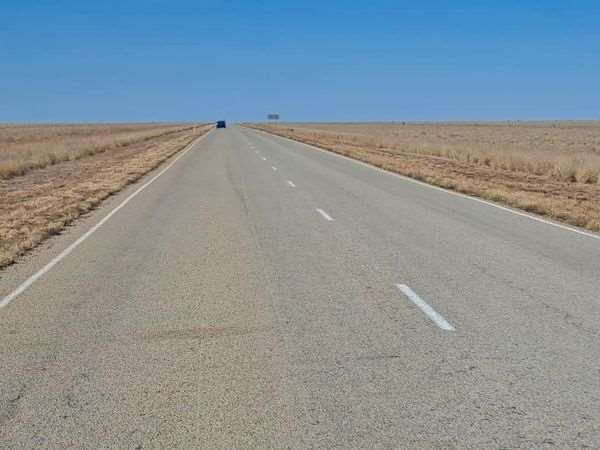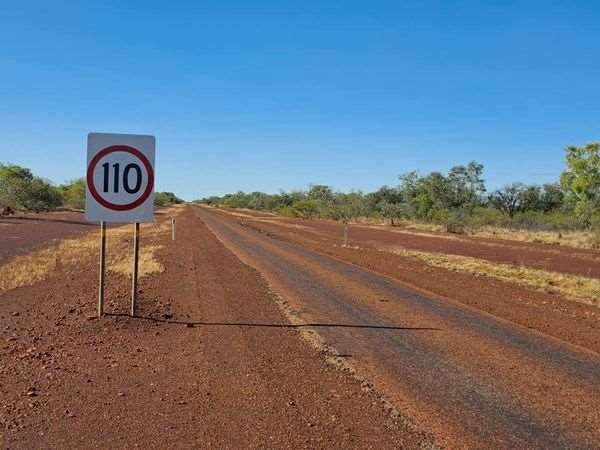 29th June
A day of R&R. First thing a sleep in until 9am. Then breakfast and I decided to change the colour of the floor on the rear of my Troopy, yes, I cleaned it with a plastic scouring pad. I have been washing it but what a difference a scouring pad makes. Next up was unpack, clean and repack all the cupboards. A few other chores took me to lunchtime.
A quick trip to the first caves nearby for lunch and a look, then off to the 2nd caves to be stopped by a closed road due to flooding.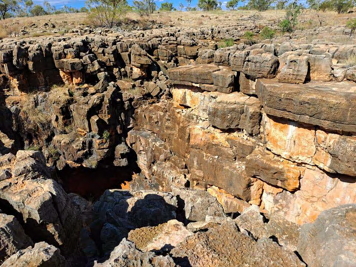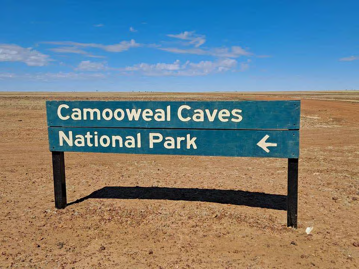 Back to setup camp again and spent the rest of the afternoon planning and booking for most of the next 2 weeks. What a job as most places are full. All done now, I am just hoping at Lawn Hill they have room. They are not taking bookings and say turn up and see what we have on the day, 4 hour drive to get there on dirt. There are no free camps nearby and the nearest paid and free camps are nearly 100km away on a dirt road. Stupid not taking bookings!!! That is life in the outback and everyone says you must spend time at Lawn Hill. Maybe they will make room for one person in a Troopy, happens a lot.
Mt Isa again tomorrow for a stock up of stuff that I was going to buy in Darwin, the last big smoke again until Cairns at the end of next week.
30th June
Today was Shopping day in Mt Isa. I got there in time for lunch, had a shower at the info centre, and then did the shop for various bits, and pieces as well as food.
All finished by 2pm and I had a campsite booked. Well I have no love for Mt Isa and cannot wait to get out of the place so I tried to call the camp to cancel, got busy tone every time I tried so sent an email and got out of town. Luckily they did not ask for a credit card when I booked.
On the road again to Burke and Wills roadhouse via a shortcut which was a 120km dirt road with sealed bits both ends. What a great road. Smooth as, very wide, a lot of up and down woopdy doos, some off camber corners after blind brows to catch you out (nasty) and other than 3 cars that came the other way, all traffic had 4 legs. Quite enjoyable to drive.
Tomorrow I am off early to see if I can get a camp site at Lawn Hill. Not sure where I will camp over the next 3 nights if I can't so watch this space.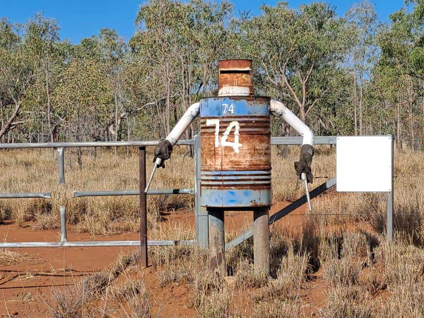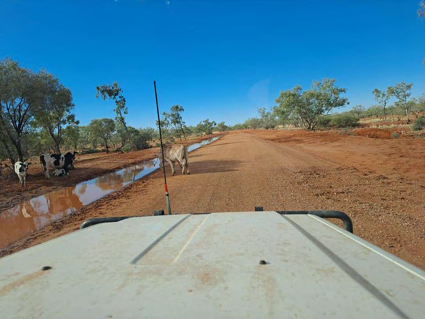 back to top