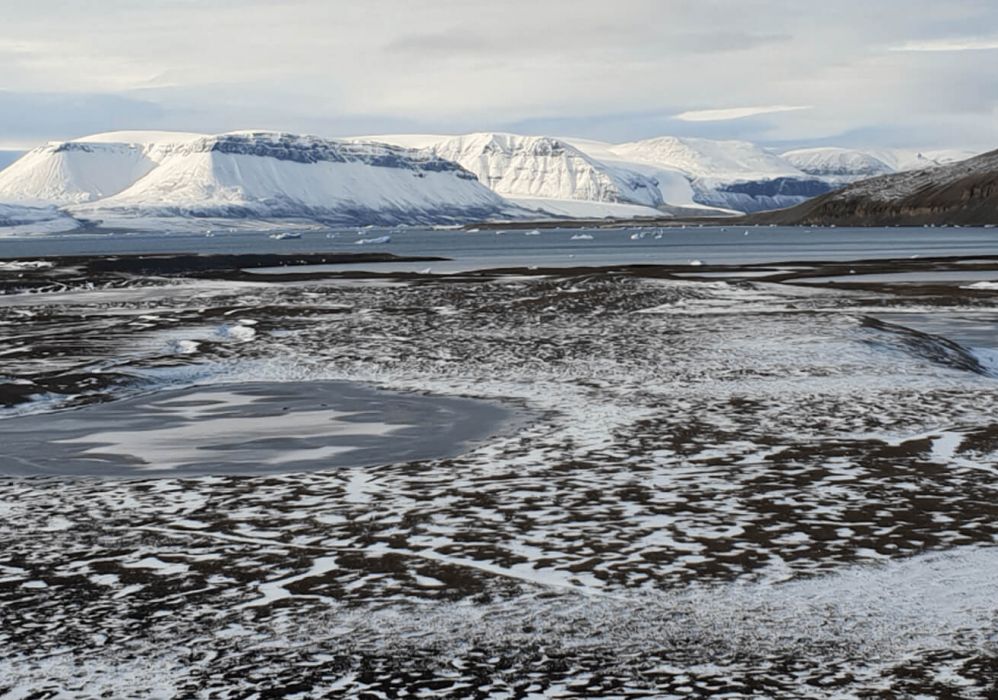 My Arctic Journey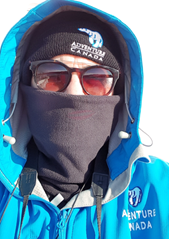 "The person who arrives, is not the person who leaves" - This is true for my journey.
This is my journey to the Arctic in September 2018 on the Ocean Endeavour with Adventure Canada. I began my trip to the Arctic, by flying into Vancouver and then connecting on to Edmonton. I met my fellow cruisers, about 190 of us in total, all very highly excited at a pre-cruise briefing in the conference room of a grand 5 star luxury hotel! Awesome start! Mostly Canadian couples, some typically talkative Americans, a smattering of Aussies and this one Kiwi chic from Tauranga. And so the adventure began.
Here we are at the Marriott Airport Hotel in Edmonton Alberta, for the trip of a lifetime. This was definitely the case for me!! After an extensive, serious and very detailed briefing on the trip, meeting our considerably experienced Expedition crew, and young Captain Mathew James Swan (MJ for short) we tried on our arctic waterproof polar jackets, checked out our cruise documentation, signed the obligatory waivers…..celebrated with wine and nibbles before bedding down for the night, in the warm luxury hotel.
A 5am start to the Edmonton airport for a 4 hour chartered flight, all part of the trip, to join the ship in Pond Inlet (called Mittimatalik by the Inuit townsfolk) which is the northern most tip of Baffin Island. An unscheduled overnight stop in Yellowknife due to particularly BAD ICE, which prevented our planned original joining point to meet the ship in Kugluktuk. Yellowknife was an interesting diversion and gave us our first insight into the Inuit culture as we travelled along in shuttle buses through the historic funky Old Town area, home to houseboats, log cabins and float planes. This dusty rambling town is somewhat famous for its best sightings this side of the Arctic.. of the famous Northern Lights. Alas the cloud cover prevented my opportunity to tick that off my bucket list.
September 3, saw us once again clambering back onto the charter aircraft and eager to get to Pond Inlet to join the ship. Crossing the wrinkled Brodeur Peninsular of Baaffin Island and dropping down deep into a fjord, flying over Eclipse Sound and descending quickly as the aircraft wings tipped toward the waves, and views of the occasional berg and the purple blue waters. And then it flashed into view… sitting about a kilometre off shore…..Ocean Endeavour!!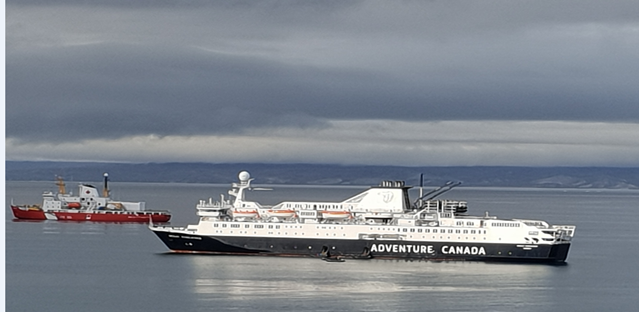 Piling into dusty old school buses, straight from the aircraft, we made our way from the bumpy Pond Inlet metal runway to the pebble shore. Rattling along past barking dog teams tied to their kennels, kids on bikes, homes on stilts, and snowmobiles just sitting above the permafrost. The townsfolk didn't appear to be too interested in a bunch of tourists arriving and just carried on about their daily business. It looked bleak and very cold. Especially when we had to wade out into ankle deep water to throw ourselves over the sides of the zodiacs, safely fitted with lifejackets to make our auspicious entrance into the bowels of the ship. At this stage I remember thinking that I had wanted an adventure, and it appeared I was about to get one!!
The ship had been purposely reconfigured from its original use as a car and passenger ferry in Europe and now boasted a dual side loading zodiac berth for easy access to and from the water. This landing area entered a huge cavern in the ship, most likely the previous car-deck area, to now be a very comfortable and warm ''mud room''. I think this was one of the best features of the expedition configuration of the ship, as this area was used for storing all the wet gear and the very easy access directly from the water into the internal public areas of the ship.
We were met on arrival in the mud room and then led by the gracious and friendly ship staff to our cabins. At this stage we could clamber out of our polar jackets and hiking boots, take off scarves and beanies to check out where we were going to live for the next 2 weeks. I chose a large cabin with a double bed, office space, lounge area and good-sized bathroom. There were 2 large square windows which were partly obscured by a lifeboat, so this added to my reassurance of the safety assurances. On my choice of a more expensive cabin, I decided very early on, if it was going to be challenging outside, I wanted lots of comforts inside! Finding my way into the large and open plan dining room for a late lunch and seated table settings of 4 – 8 at a table gave me my first real opportunity to talk to others on the trip. The food was plentiful from a central buffet and offered a great selection of cuisine that would suit most, and I definitely had no qualms with what was offered. The mix of nationalities, and the balance of couples, male and female sole travellers put me instantly at ease, that this was the right cruise choice for me.
What started that afternoon, on our very first day, was one of the most unexpected treats for me, on the trip. The ''workshops'' hosted by the expedition crew were a complete surprise to me. I had not anticipated the enjoyment of being immersed in this white polar existence whilst listening to the heroic pursuits many had achieved in their own personal lives aside from being our expedition crew.
Accompanied by visual records of video or photos enabled us to soak up the amazing stories of death defying acts, such as the Hobie Cat Expedition through the Arctic Archipelago by explorer and wildlife guide Mike Beedell, or historian Aaron Spitzer now an academic specialising in Indigenous governance. Another moving and emotional presentation from a grand elder and wisdom keeper called Larry Audlaluk, who was one of the original Inuit relocates to Grise Fjord. He, his parents and family were marooned at the top of the world, after being brought north from Quebec by the Canadian government whose sole purpose was to be able to claim sovereignty of the land, by claims of occupation.
This small community still exists today with no power or water and to this day… barely survive. Most days we would be treated to the marvellous opportunities to learn from the expedition team members on a wide range of arctic topics. Sometimes we would bring a few people from these northern most communities onto the ship to share a meal and listen to their stories.
The other exceptional learning from the workshop sessions was to understand polar ice, and what is GOOD ICE and BAD ICE! These are colour coded from green to yellow to orange, then the dreaded RED! Charts from the ships metrological services clearly identify the ice packs that were forming throughout the area, information vital for the ship's captain and expedition leader to keep us out of trouble.
The Northwest Passage only operates at very short periods of the year when the ice should have dwindled to its annual minimum, but instead it was steadfastly remaining thicker this year than it had been in the past dozen summers. This meant some operational itinerary changes – one of which we had already experienced with the original departure from Kugluktuk.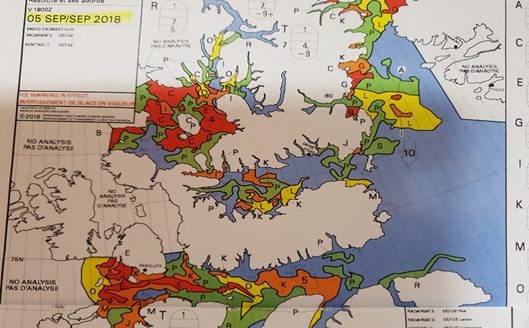 The following day was our first expedition cruising day….dawning at Croker Bay with the ship swaddled in mist. Drifting north out of Eclipse and into Lancaster Sound in the great gaping jaws of the Northwest Passage. The bleak sky was now spitting snow and dusted the outer decks of the ship. Absolutely unreal!! Now came the thrill to don our lifejackets, polar clothing and every bit of warmth we could wear as the side gates opened up to the zodiacs, inward we tumbled and held on tight as they gunned the motors and the Arctic chill washed over us. Slowing down after an exhilarating wild ride, we glided through the fog, still being pelted by snowflakes and freezing spray. I had never felt more alive! Soon, and suddenly magnificent vertical forms materialised right in front of us, a great white wall, a glacier snout, a hundred feet high and glorious.
We cruised the zodiacs alongside the frosted icecap and circled the brilliant blue bergs. We could turn off the zodiac engine and just float, in pure silence …. right in the lee of the largest uninhabited island in the world. We just sat, and pondered, and watched and photographed the aura surrounding us. The added delighted of the fat and curious bearded seals popping up out of the water all around us, observing us, as much as we were observing them. Several hours later it was getting dark, extremely cold, and time to head back to the ship. The zodiac drivers gunned the motors!!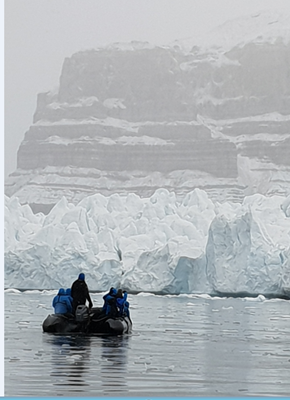 Day 4 of our voyage awakes in Dundas Harbour, Devon Island. Promises of being able to land and walk about onshore, all weather dependent of course … and attempts to go off for a hike. Luckily the weather held, and off we went. Dundas Harbours was established as one of the first police posts back in the 1920s. This is where we learn about the "Mounties" and their achingly lonely existence for posts of up to a year or more without any other human contact. Their mission to fend for themselves and discourage Greenland poachers. We hiked to the RCMP (Royal Canadian Mounted Police) post and Thule House, as it was known, was still there. Along with about half a dozen other weather-beaten structures on steep shale beach. It was bitterly cold and miserable. We climbed a hill to the cemetery demarcated by a white picket fence where two bodies of Mounties were buried, one who had shot himself on purpose and the other by accident, Devon Island was a dangerous posting!
This was a great day, to actually feel the remoteness, to see the remnants of former lives tested by the harshness of the arctic! And more was yet to come.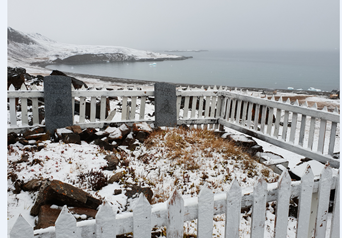 Day 5 pressed further into the Passage to Burnett and Stratton Inlets. The seas were again calm, and it wasn't long before we got our first call on ''wild life spotted'' and thirty five or more leathery looking sausages cuddled together on a pan of ice, with great steam plumes wafting from their bodes into the air, proved to be Ivory tusked Walruses. What a sight! Once they got wind of us, they belly flopped into the sea and splashed off with much belching and honking. We cruised the area quietly looking for anything else and saw groups of harp and bearded seals. Then…along the shoreline splashing and glinting, bright white in the grey green sea were a 100 or more Beluga whales. It was hard to know which camera to grab, or to simply absorb the sight in very front of your eyes.
Our intention was to reach Beechey Island that afternoon but our hopes were dashed due to the ice shifts, we huddled in Lancaster Sound for the night. Any day that starts with a call over the public address system that starts with an apology is not all bad….especially when it says ''polar bears to starboard'', and all my dreams came true!! My Number 1 reason to come all this way to the Arctic! To see a polar bear in its natural environment. Here it was, a mother hunting over a seal hole, and her 2 cubs cuddling close together watching her catching their dinner. She was a big white beauty and we hovered far enough away not to disturb her or her cubs, and just watched and sighed! After many hours, reluctantly, we had to go.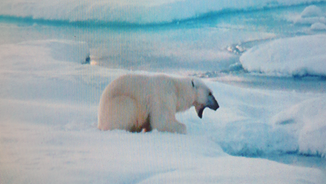 Rounding the corner of Bylot Island and cruising into the Navy Board Inlet with Sirmilik National Park on our left, Baffin Island on our right. Here we found the classical Arctic landscape. Lakes and moraines were everywhere, patterned grounds and ragged fingers of stone ran out into the bay like giant causeways. The ''bear monitors'' (crew off the ship with guns in case of a bear attack) were in place and we could go ashore and walk about. The photographic opportunities were staggering.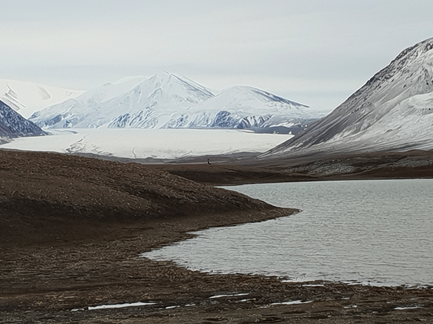 The following day was an opportunity to return to Pond Inlet and wander the community with an afternoon's entertainment in the community hall. On our way back to Pond Inlet we sighted the very rare (in the arctic) dorsal fins of pods of orca, unappreciated by the locals, as they are harm the narwhal population. Clambering ashore out of the zodiacs and tramping up past the school and the nursing station, to the cultural centre and the necessary gift shop, with an enlightening look around the community grocery store to check out the pricing and available contents, which was very adequately stocked and priced. A sobering day, wondering what sort of existence these families enjoy so far away from life's practicalities.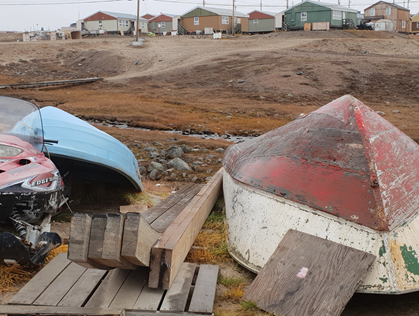 The following morning the sea was misty and grey, and with the sky being just as grey, it was difficult to see the line where they met. Technically it was warm at 3oC well above freezing, but the pelting drizzle and clammy winds was decidedly unwelcome, given we were going ashore for a hike on Philpotts Island. Watching carefully to avoid gigantic bergs and swaddling ourselves in every layer we plunged through the lashing spray in the zodiacs and landed on shore. Our extreme hiking efforts resulted in sightings of muskoxen, ptarmigan and snow buntings. With the winds now freshening we hustled back to the shore and back on to the warm and cosy Endeavour to hot spring rolls, and warm soup!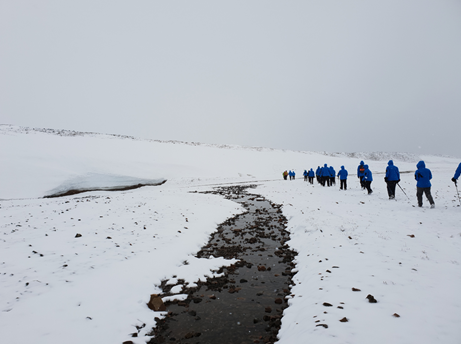 Day 9 on September 10, 2019 we found ourselves creeping through Jones Sound toward the southern claw of Ellesmere arriving in the South Cape Fjord, Canadas northernmost island and in the most stunning location. It felt as if we were on a different planet, with little wind, no scudding snow and serenely flat seas. The landscape was particularly notable for its desolation and yet there were signs of life by a clump of moss here and there, and a skull picked to the bare bones. Most certainly a complete turnaround in the weather from the previous day and provided a fantastic few hours on shore to stroll about at our leisure.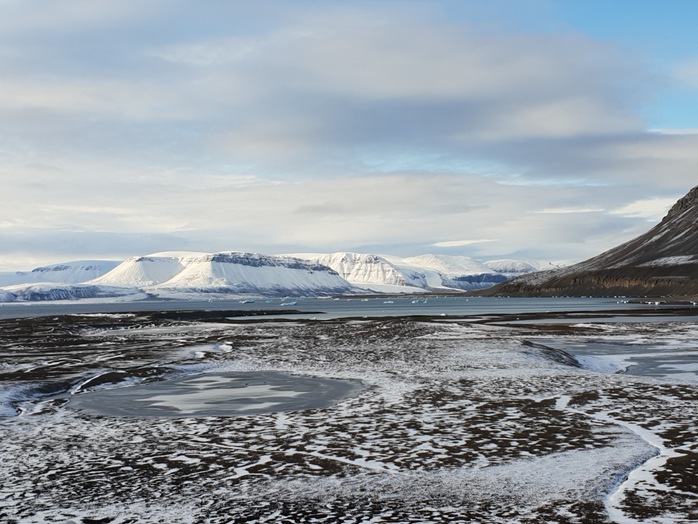 Following that good day was the next, met with much sadness at a lost opportunity due to ice, to visit the community of Grise Fjord, the northernmost community in Canada, home to Larry Audlaluk, the grand elder. However the Expedition crew landed ashore, and bought several members of the community back on board to share a meal with us, and a fabulous afternoon of Inuit throat singing – it grows on you! ''This is our home, we built it from the ground up'' they told us! We learnt much about the challenges and life in the Arctic that day.
And on we went…awaking the following day to find ourselves in the great alone somewhere in the void of Baffin Bay, and then a vision… Greenland loomed into view! Big mountains, big glaciers and a legendary little place called Etah, and time to get ashore. Seeing immediate evidence of this being a very happy hunting ground with ribs and femurs and skulls strewn across the valley floor from big muskoxen and caribou. In the whole of the Arctic locations I visited, there wasn't a place so rich as here with the spoor of life. Never one to turn down a hike, a group of us set off across the valley floor. At one point we came around a bend and were hushed into silence – there on an exposed ridge sat a very big brilliant white hare. Curious but not alarmed, we let it be, and descended to a glistening lake and the grand arm of the Brother John Glacier. Unlike most other glaciers in the world you can walk right up to it and touch it and peer up into the mysterious ice caves.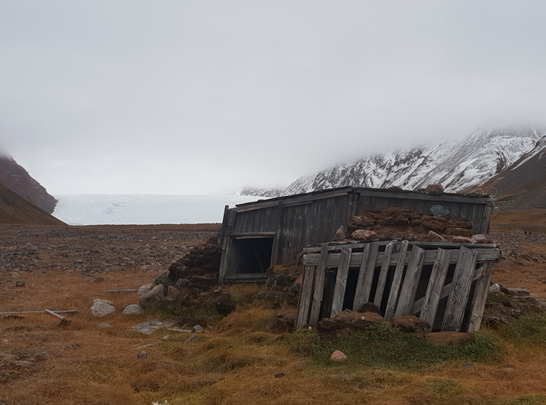 So now we have left the Canadian Arctic and I am besotted by Greenland and a day later we are at anchor in front of our first Greenlandic town. Uummannaq. A clutch of Lego coloured homes perching on stony outcrops. Overhanging the town was a heart-shaped ice capped peak and the town was literally ''ringed'' by icebergs – big ones! 10,000-year-old ice! A perfect harbour for the town's fishermen and again choc-a-block with ice. We spilled out onto the pier from the zodiacs and invaded their community. Several activities were offered, so I took up the obligatory hike which was great way to get some exercise and soak up the cleanest freshest air and stunning surroundings.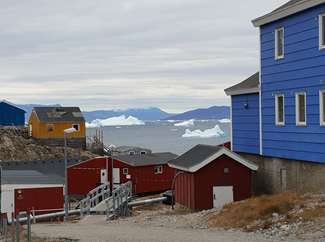 Then we are steaming full tilt around Kap York and heading toward uninhabited Melville Bay on the north Greenland coast. Encircling us in every direction were gargantuan icebergs, galaxies of them, no two the same shape. Some were like pyramids, and other like buttresses with spires. We filled our memory cards over and again, until you simply became exhausted by how breath-taking and spectacular nature can become. The following day heading for Tasiusaq the bergs became as big as city blocks, simply unbelievable. You wondered if you were simply going to end up running into a gigantic wall of ice completely blocking off the ships path. Further south we reached Uummannaq and then on Sunday September 16 we arrived at Ilulissat with gleaming white house-sized giants dwarfing the ship.
The local Jacobsshavn Glacier, the most productive in the Northern Hemisphere spurting millions of tons of iceberg into the bay surrounding us. Bundled up warmly in the zodiacs we spent a grand couple of hours weaving in and around the bergs on an ice-cruise. Absolutely exhilarating!
Spilling out onto the jetty after the icy jaunt we headed straight for the UNESCO World Heritage Site to gawk at the outlet of the fjord, a sight so massive it was outside the powers of comprehension. How much more could we possibly take in on this journey.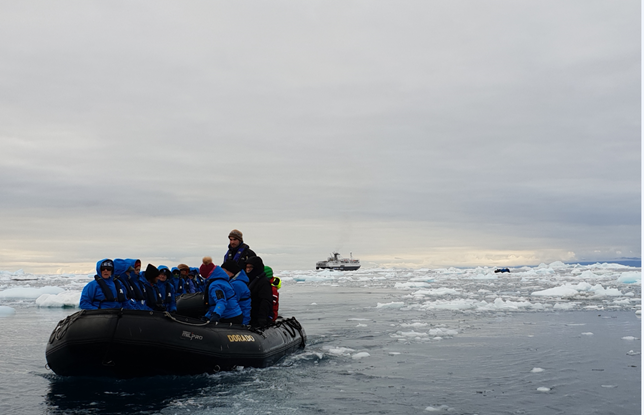 Finally Sisimut and the seas are calm, the air temperature is warming up to 5degrees Celsius, it September 17th and we are nearing the final leg. Tied up alongside a wharf is a whole new experience on this voyage.. such a novelty! Sisimut is Greenland's second largest town. What a town it was! Steep roofed houses, a harbour bustling with fishermen, roads and cars and no rubber boots required to disembark here. Off we trudged on a local tour, past huge dog sled teams spread out over multiple hectares of bare land each with their own husky hutch and feeding trough. Past gift shops offering sealskin mitts and skeins of qiviut wool alongside the local meat market with tubs of seal and Arctic char. I waited until the very end to buy the most exquisite hand carved polar bear and had my picture taken with the happy carver. It was a good day but a somewhat sad day, we were heading back to reality.
Later that evening back on board a final recap and staff saying goodbye. Tears and silly poems, words of thanks and gratitude and a farewell dinner. Whilst still reeling about the end we never expected to happen, an announcement we thought would never come….Northern Lights dead ahead!!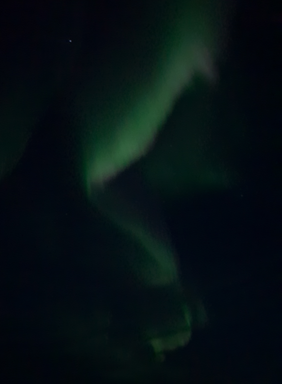 Impossible to imagine a more perfect ending to a glorious adventure to the Arctic!!!
Kay Rogers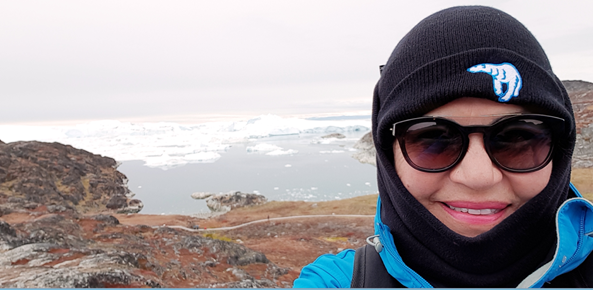 back to top